Hull City Preview: Numbers Don't Tell The Whole Story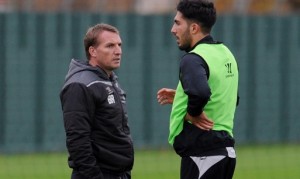 After holding Arsenal to a 2-2 draw at the Emirates Stadium last weekend, there's no question that Hull City travel to Anfield this weekend believing that they can get something against a faltering Liverpool side.
The Reds have had an eventful week; after barely scraping past last placed Queens Park Rangers in the capital, a midweek humbling against reigning European champions Real Madrid gave not only their fitness levels, but their fragile confidence yet another blow. While it doesn't take a stretch of the imagination to picture these two sides coming into tomorrows match on opposite ends of the spectrum, reconciling which one is on the up-tick and who is on a serious down-turn may take some time to wrap your head around.
That, of course, doesn't tell the whole story or is completely accurate. While the Tigers sit just on the edge of the wrong half of the table in 11th place, Liverpool are still right in the mix for a Champions League place, level on points, but with an inferior goal difference, to fourth place West Ham United.
On paper, it's hardly time for panic stations. Even the best teams go through slumps and hit speed bumps en route to good seasons — how many times did we see Manchester United play less than dazzling football for large swathes of the year, but still end up champions in May after grinding out results?
Sitting just outside the top four at the end of October isn't cause for concern, but our current form is, and when you look a bit closer at the table, a mere three points separates our comfortable fifth place standing from Hull City down in eleventh. The Premier League table is always tight, but there's a real sense that if we don't arrest our rapid decline, we'll be swapping places with the Tigers in short shrift.
Still, Hull City boss Steve Bruce will have his work cut out for him. Influential pair Michael Dawson and Nikica Jelavic were both ruled out for up to six weeks after picking up injuries against Arsenal last weekend, meaning that not only do they have a bit of a problem up top, but they have one at the back as well. Make that two at the back — with both Allan McGregor and Steve Harper on the treatment table, third choice 'keeper Eldin Jakupovic will be between the sticks at Anfield. If there was ever a time for the Reds faltering attack to find some confidence, it would be now.
Though, to be fair, scoring one and keeping a clean sheet sounds just as appealing. That we've kept only a single clean sheet in our last 18-outings in all competitions is telling in itself, and though the big talking point coming out of Wednesday's loss to Real Madrid seemed to be Mario Balotelli swapping shirts at half-time, Reds boss Brendan Rodgers answering a question about the Italian's future with his own query as to whether the 24-year old was playing centre-half is a wake-up call to a backline that's been sleep-walking through the season.
Let's be honest, Balotelli's long-term future on Merseyside was a question from the get-go with Rodgers hinting on more than one occasion that it wasn't his decision to sign the temperamental forward, but he's hardly what's keeping the Anfield outfit down. Problems at the back have plagued the Reds over the last two seasons with set-pieces and direct balls into the box causing the biggest headaches of all. While you may see Rickie Lambert take the place of the Italian up-front come Saturday, the former Southampton man isn't going to keep the ball out of the net — and that, right now, is what we really need to be focusing on.
When the appropriate time to trade shirts, to me anyway, comes a very distant second to keeping Abel Hernandez and Mohamed Diame from knocking us into the wrong half of the table.
–Steven