Crystal Palace Buildup: Warnock to Put One Over, McArthur's in a Race and Kelly Wants the Points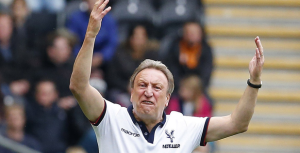 Crystal Palace will be a bit sore at coming up shy against Manchester United just under fortnight ago when the Red Devils claimed a now increasingly rare win against Neil Warnock's side, but the Eagles are back at it on Sunday and they'll have another chance at scalping one of the big boys when Liverpool visit Selhurst Park this weekend.
With the Reds struggling all over the pitch, and the memory of throwing away a three goal lead in this fixture last season still fresh in the mind, you'd excuse any Palace fan that was feeling unusually confident going into this one. Daniel Sturridge, who was expected to feature, has had yet another injury set-back and Jordan Henderson, a mainstay in Liverpool boss Brendan Rodgers side, is also a doubt with a hamstring injury. Things aren't looking good for the Anfield outfit, but if you're an Eagles supporter, this news is good news.
Obviously, it's also good news Warnock. The Palace boss, who is in his second spell in the Selhurst Park hot-seat after replacing former manager Tony Pulis during the summer, will not only be counting his lucky stars, but he'll also be looking for a much needed bump up the table.
"I like Brendan but I would love to put one over on him," said Warnock, whose side go into the weekend hovering just above the relegation zone. "With the players he's got and the money he has spent, they will be confident, but we're looking forward to it. It will be a good one. What happened last year may be on their minds. What a game it was. I wasn't even here then, but I was jumping up and down" he continued, before adding, "If we're on our game that night, we can get a good result."
With Liverpool floundering in the wrong half of the table, it's hard to argue to the contrary. Injuries have had a major impact on the Merseyside club this season with the continuing absence of Sturridge the most telling of them all, but the Reds aren't the only club to feel the pinch this season — especially when players are away representing their respective countries — with Palace midfielder James McArthur facing a race to be fit for this weekend's match.
Although he initially injured himself in the 1-0 loss to Manchester United in their last match before the international break, the Scottish midfielder was sent back to Selhurst Park for treatment after meeting up with Gordon Strachan's side. "I have been running so hopefully I will train on Friday and Saturday and be available for Sunday," he told the Croydon Advertiser when asked about his calf problem. "It's feeling OK, I've been running with no problem. I went with Scotland, had a scan and was sent home. It was disappointing not to play, especially in the qualifier against the Republic of Ireland, but also against England."
Despite the poor run of form the Reds are currently mired in, it's hard to complain all too loud to a Palace fan about it. Without a win since September, the Eagles aren't exactly having a good run of it either, but even a point on Sunday would do well to improve their position — something former Liverpool defender Martin Kelly is hoping for.
Although the 24-year old, who remains a Liverpool supporter despite moving to Selhurst Park in a £1.5mil deal back in August, wants nothing but good things for his old team, he'd rather they get back to winning ways after their meeting on Sunday. "Liverpool is the first result I look for every weekend to see how my mates have got on and it will always be like that," he told the Liverpool ECHO in the buildup to the match. "I hope Liverpool do pick up but not until next week. We need the points on Sunday even more than them. It's been too long since we got a win. We played okay at Old Trafford before the international break but we need to turn playing well into getting results."
That sounds a bit like us, doesn't it?
–Steven