Balotelli Hasn't Done Enough to Warrant Selection Confirms Reds Boss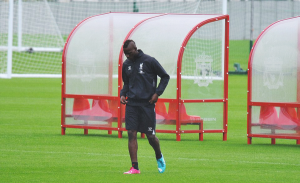 With rumours continuing to circulate regarding the future of Mario Balotelli at Liverpool, his absence in yesterday's scoreless draw with Championship side Bolton Wanderers spoke volumes already, but Reds boss Brendan Rodgers decided to add to that already loud and clear message by confirming the Italian was left out due to his lacklustre performances in training.
The 24-year old missed the Anfield outfits previous two matches due to a mystery illness, but his manager made no secret of continued exile following yesterday's meeting with the Trotters. "He knows exactly what is required to be in this squad before he can be in the team," said Rodgers when asked about the striker. "I am judging it every day in training – Mario is exactly the same as every other player, there is no special treatment for anyone. "If you want to contribute you have to be at it every single day in training in order to be in the squad on matchday."
With Daniel Sturridge set to return in the very near future, there's little question that Balotelli's chances will be even fewer and father between in the future when the England man hits the pitch again. Although a number of sides have been rumoured to be interested in taking the Italian attacker on loan, Rodgers has continually insisted that they will continue to look for solutions to make the 24-year old's time at Anfield fruitful — but he's going to have to get back into the side before that can even begin to happen.
"It is difficult for him [Balotelli] but he knows the level of [where] this team is at – you see the aggression in our pressing and if you can't do that you are not going to be a part of what this team is trying to achieve" continued Rodgers after praising the work-rate of his fellow striker Rickie Lambert and Fabio Borini. "We had an hour or so yesterday chatting and he understands where he is at."
It wouldn't be all too surprising if "where he's at" turns out to be an exit door…