Swansea City Preview: This is No Time to Slow Down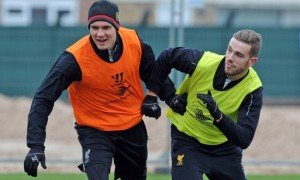 It's one thing to muscle your way from the back of the pack into the race for a top four spot, but it's an entirely different thing to keep pace once you're there; since the middle of December, Liverpool have done that and more.
A well orchestrated win over Manchester City and a routine three points against Burnley FC followed up close fought victories over Tottenham Hotspur and Southampton to give the Reds their fourth league win on the hop — exactly the kind of form you want to be boasting during the business end of the season. Those twelve points firmly entrenched us in the race for Champions League football, but it'll be the next three matches that could very well see our legs give out as we dash towards the finish line.
Manchester United visit Anfield next weekend before Arsenal host us at the Emirates Stadium and with the three of us all chasing the very same prize, these two matches could very well determine who'll be gallivanting around Europe next season. That being said, tomorrow's meeting with Swansea City will be just as, if not more, important than the two matches that follow it; we still have ground to make up.
Philippe Coutinho and Jordan Henderson have both been in sparkling form as of late and should be given the nod by boss Brendan Rodgers despite the fact that skipper Steven Gerrard is fit to return to the side following a hamstring injury. The Captain could find himself back in the starting eleven with Joe Allen almost certain to miss out with a hip injury and Lucas still sidelined, but the 34-year may have to fight off Emre Can for a spot in the midfield.
With Mamadou Sakho ready to return from an injury of his own and Dejan Lovren cutting a more composed figure as of late, the German could end up in his preferred position in the middle of the park to add a bit more industry and steel further up the pitch in the absence of Allen. Henderson hasn't just been scoring, he's been creating as well and Rodgers knows that stifling him with too many defensive duties now would be a mistake, though Gerrard's heir apparent will do well to dictate play with former teammate Jonjo Shelvey looking to do the same on the other side of the park.
Something always seems to happen when the 23-year old runs out against his old team and there's really no indication that's going to change anytime soon. Involved in all four goals during a 2-2 draw last season and unfortunate to bundle into his own net in the reverse fixture, the ex-Red has had a bit of a mixed bag since leaving for the Liberty Stadium. Drawing criticism from Jacks boss Gary Monk earlier in the year for his erratic form, a stunning goal against Manchester United at the end of February has added an emphatic bit of punctuation to a "What's Up Now?" response from the midfielder with a string of consistent performances pushing him back into the spotlight for all the right reasons — someplace he'll no doubt look to stay when Liverpool roll into town.
The Welsh side have European aspirations of their own and while that may only include UEFA's second tier competition, if they can secure it, that'll be a job well done for the Swans. It sounds like striker Bafetimbi Gomis will be fine to square off against the Reds after collapsing in the Swans last league outing against Tottenham Hotspur and he'll look to combine with Gylfi Sigurdsson to break down the Reds back-line. The Anfield outfit haven't conceded a goal away from home since the loss to United back in December, but they've scored a bushel — Jacks Captain Ashley Williams is certain to have his hands full with the likes of Daniel Sturridge and Raheem Sterling looking to add to their respective tallies.
This, of course, is no time for Rodgers to watch his side slow down. We've done an impressive job battling back from a terrible start to the season to put ourselves back in the race for Champions League football. While various pundits and talking heads may be amping up the more high profile matches on the horizon, they don't matter right now — not one little bit. Three-points against Swansea City, our fifth win on the hop and keeping the chasing pack at bay while putting pressure on those we're chasing is where it's at right now.
We can talk about rivalries and all that nonsense another day…
–Steven