Manchester United Buildup: van Gaal Takes a Drive, Carrick Wants Results and Di Maria Keeps it 100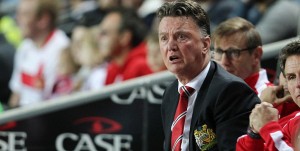 When Liverpool and Manchester United square off, it's always a big deal. The history, the rivalry and the sheer weight of the combined fan-base of the two clubs ensures that it's always one of the first fixtures you look for at the beginning of the season, but this year it has been handed an extra edge.
Over the past decade or so, the Reds have hardly challenged for the title. Sure they took a tilt at it last year and come close under Rafa Benitez back in 2009, but besides blips of Chelsea, Arsenal and now Manchester City nipping it away from them, it's mainly been the United show. That, of course, was then and this is very much now. While it won't be the Premier League trophy that these two will be duking it out over come Sunday, there's no question that this will be a pivotal match in deciding who qualifies for next season's Champions League — something Red Devils boss Louis van Gaal more than understands the importance of.
"When I drive my car for the first time in England it is the same, I have to think about the left and the right" explained the Dutchman in his typically cryptic manner. "That we have seen with United. Against Spurs you have seen that. That shows they can do things together as a team. That takes time. In Germany [at Bayern], it took until December. And now until March [with United]," he continued before going on to underline how important qualifying for the Champions League is to his side.. "We have to qualify for the Champions League and we have many tests next year. That also develops the level of your team, and of course how many players can come in to improve our selection."
Although United were able to recruit heavily — and quite successfully — during the summer despite a lack of European football on offer, the Dutchman obviously recognizes that won't always be the case with financial limitations and quite possibly a sheer lack of interest from top stars in making the move to Old Trafford throwing up future roadblocks. While beating Liverpool on Sunday would open a five point gap between them and their closest chasers, there's still a lot of football left to played. Michael Carrick, who just signed a contract extension that'll keep him in Manchester for another year, gave his manager his vote of confidence in the buildup to their trip to Anfield, but was also quick to point out that he and his team-mates can do better.
"The players are behind him of course. It is just that results prove everything don't they?" mused the midfielder ahead of Sunday's showdown on Merseyside. "We can improve on the training pitch, we can get better there, but it is all about what we do on game day really. And against Spurs, it was probably a big step for us in terms of the size of the game and, to play like we did, it will give everyone a big boost and big shot of confidence."
While there's little doubt that beating Tottenham at home and doing the same to Liverpool away are two massively different propositions, that bit of momentum could go a long way to getting them back on track after being unceremoniously dumped out of the FA Cup at the hands of Arsenal. Regardless, a return to the bright lights of the Champions League was always going to be the top priority for van Gaal and his men and despite the difficult run of fixtures over the horizon, confidence is high that they'll be able to reach that goal.
"We are all aware that a number of big games are just around the corner, and the season will be decided by these fixtures," winger Angel Di Maria told United Review. "Everyone at the club is 100 percent confident, we know we want to get back into the Champions League and that we want to be fighting it out," continued United's record signing. "We'll battle hard right to the end of the season. From what I know of the club, United always fight right to the end and that's what we're going to do."
–Steven