West Bromwich Albion Buildup: Kemp Changes the Perspective, Pocognoli Doesn't Understand and Fletcher Likes the Attitude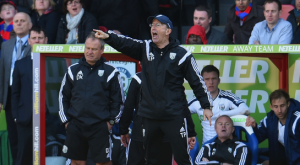 They might be mired in a bit of a relegation scrap at the moment, but after losing out to Aston Villa in the FA Cup semi-final last weekend, West Bromwich Albion is one of the last teams they would have wanted to try to bounce back against.
You can double down on that statement now that Tony Pulis is in charge at the Hawthorns with the Welshman's impressive record against the Reds preceding itself. He may have found things a bit tough going in the West Midlands since replacing Alan Irvine on New Year's Day, but the win over his old club Crystal Palace has seen the Baggies climb to within two wins of the magic 40-point safety net in the race for Premier League survival. While they've been given a reprieve — for now anyway — from the dog-fight at the bottom, assistant boss Dave Kemp believes that the club should be able to push on from here and hopefully capitalize on the Reds recent struggles.
"The Liverpool game doesn't look as bad now as it did a week ago. You think 'we can't beat Leicester and now we're playing Liverpool' but football is not like that. It's a roller-coaster and our win on Saturday and their defeat on Sunday changes the perspective.The Premier League is hard, full-stop," he explained. "As we showed against QPR and Leicester, people probably had that down as a West Brom win and it doesn't work like that. If you drop a notch, the other teams are quite capable of beating you and vice-versa. We might play teams and they expect to win but it doesn't work out the way people think. That's football."
The Reds, of course, can relate; they may have been heavily favoured to book a place in the FA Cup final, but after they were comprehensively outplayed and then knocked out of the competition by Aston Villa on Sunday, there's a lot of head scratching going on at Anfield with many predicting some sort of shake-up to come when they travel to the Midlands this weekend. Pulis, never one to compromise his vision, has done quite a bit of shaking of his own and that has left a few players — including highly rated defender Sebastien Pocognoli — out in the cold.
"I do not understand. I have also got no explanation as to why I don't play. Even if my (left-back rival) is injured or suspended I don't get a chance. That's frustrating because I feel very happy in Birmingham and I have a good relationship with the fans," said the big Belgian before refusing to rule out a move away from the West Midlands at the end of the season. "I will not cause trouble, because I am not that type, the end of the season is approaching and I am waiting for the club to tell me their plans. After I played 15 good games, I know that some clubs have followed me. It is too early to talk about that, but I want to stay in the Premier League."
That sounds like West Brom in a nutshell — they don't know what the future will hold for them, but they want to stay in the Premier League. Beating the Eagles last weekend has certainly helped their cause, but their top flight status is still isn't assured. Recent Manchester United transplant Darren Fletcher isn't used to battling at the bottom having won the league four times and Europe's most prestigious club competition once during his time at Old Trafford, but he thinks that their new boss is the man to drive not only the club, but the culture surrounding it forward.
"The manager doesn't settle for mediocrity, he always wants to improve and move forward and that's very much the mindset everyone should have," enthused the Baggies captain. "That is his mindset. Who wants to fight a relegation battle every year? You should try to beat your last total, go and win the next game and always look forward. That's what I like. He's got that attitude and desire and all the players will respond to that and if they don't I'm sure he'll do something about it."
He will do something about it — just ask Pocognoli.
–Steven