Daniel Sturridge Expected to Miss Four Months Following Hip Surgery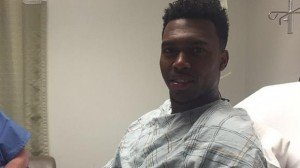 Although Daniel Sturridge's hip surgery, which took place in New York City on Tuesday, was deemed a success, you won't see too many Liverpool fans thanking their lucky stars quite yet with the news that the influential striker is expected to miss the next four months just starting to come out.
Yes, you read that right. The Reds campaign, which saw the 25-year old make only 12-league appearances and score 4-goals, isn't even over yet and already he's been ruled out for the start of the next one. If all goes to plan, Sturridge should be able to resume full training by the time September rolls around with a first team return expected in mid-October. That, of course, is the optimists view on the matter.
Late last month Liverpool boss Brendan Rodgers hinted that the striker's season could be over after he aggravated a pre-existing hip injury playing in the FA Cup quarter-final win over Blackburn Rovers, and when he was sent to the United States for further assessment, it was pretty obvious that we wouldn't see him again for quite some time. Orthopaedic surgeon Bryan Kelly, who performed the surgery, has told the club that the operation should not only fix Sturridge's hip problem, but also help to address the various muscle ailments that has seen the striker's career blighted by injuries.
While that may be good news for the long-term, it's not doing us much good in the meantime. The Reds are expected to shake-up their forward line this summer with the likes of Mario Balotelli, Rickie Lambert and Fabio Borini failing to cut the mustard on Merseyside. Highly rated youngster Divock Origi will be returning to the club when his loan with Lille expires at the end of the Ligue 1 season, but he's hardly the solution to our problems in front of the net. This latest bit of bad luck only makes the news that Manchester United have agreed to terms with PSV Eindhoven over goal-machine Memphis Depay that much harder to swallow…