No Liverpool Contact Over Georginio Wijnaldum Confirms Dutch Club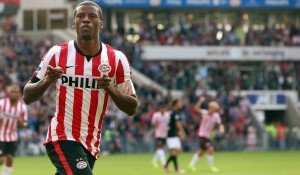 After PSV Eindhoven sporting director Marcel Brands played the spin game to great effect in Liverpool's apparent pursuit of Dutch wonder-kid Memphis Depay, he's taking a completely different angle when it comes to the Reds reported interest in midfielder Georginio Wijnaldum.
The 24-year old, who, according to the press anyway, is assumed to be a target for the Anfield outfit, bagged himself 13-goals and 3-assists as the Red and Whites romped to their first Eredivisie title since 2008. While the Eindhoven based club looked to be actively pursuing suitors for the Manchester United bound winger, they seem far less keen to invite interest onto their captain with one eye firmly on the demands that will come along with next season's European commitments.
"We have not had any contact with Liverpool about Wijnaldum," Brands, a now familiar name to the Reds faithful, told the press in the wake of Depay's departure for Old Trafford. "We hope to keep the rest of the team together now because we are playing in the Champions League next season. I hope we don't have to sell any other players."
Now, whether or not this is a long con on the part of the PSV sporting director remains to be seen — much like the Reds supposed interest in the player. While he's attracted interest from the likes of Arsenal and Manchester United in the past, Wijnaldum isn't exactly the kind of marquee player that the Anfield outfit are believed to be targeting this summer. With the expected shake-up of the strike-force sure to be given an even higher priority following Daniel Sturridge's hip surgery, even if the 24-year old was a realistic target, signing him up could be moved quite a ways down Rodgers' to-do list.