Emre Can: Should He Stay, Or Should He Go?
Liverpool midfielder Emre Can is still yet to resolve his current contract issue with the Reds, and could be set to depart Anfield this summer to Italian Champions Juventus.
The German international has just 1-year remaining on his current deal at Anfield and it is looking more likely that the 23-year-old will not sign a new deal, forcing Jurgen Klopp into selling his fellow country man this summer.
Emre Can signed for the Reds back in the summer of 2014 by former Liverpool boss Brendan Rodgers, from Bayer Leverkusen. Since his arrival, Can has made 89 league appearances scoring 7 times for Liverpool, including his goal of the season strike against Watford in the tail end of last campaign, contributing to the Reds 4th place finish and their return to the Champions League.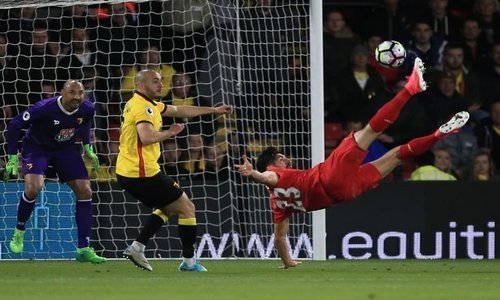 Emre Can has recently joined up with his current team mates at Melwood for the preparations of the new Premier League season that will kick off in just under 2-weeks' time. The German had missed Liverpool's trip to Hong Kong due to his appearance at the Confederations Cup with Germany, in which he went on to win against Chile 1-0.
Though It is being reported that last year's Champions League runners-up Juventus have been eying up a move for the Confederations Cup winner, no official bid has yet been placed. However, a price in the region of £30 million has been reported.
Should He Stay, Or Should He Go?
Since joining Liverpool 3-years ago, Emre Can has been hit and miss over the course of his Liverpool career. His ability has always been there; however, he has not quite delivered on a regular basis. At only 23-years-old, it would not be fair to criticise the German too harshly as he still has his best years to come, whether that will be on Merseyside or in Turin, it is worryingly uncertain.
After breaking into the German national side this summer in the Confederations Cup, it seems likely that Emre is about to hit a point in his career that could define his real quality as a player and put a stamp on his status as one of the best midfielders in Europe. Thanks to Klopp bringing back Champions League football to Anfield next season, Can would be given the platform to take his next step in showcasing his talents to the rest of Europe at the biggest stage of club football. However, with the longevity of negotiations of a new deal with the Reds, it is seemingly likely that the midfielder is pushing for a move away from Anfield.
It would undoubtedly be a huge disappointment if the 23-year-old would decide to turn down a contract at Liverpool and jump ship to Italy, in my eyes, a cop out, to put it bluntly. If a player has any ambition to become the best, then surly that is to prove themselves amongst the best, and the Premier League certainly has a large proportion of the best players in the world, besides the obvious 5 (Messi, Ronaldo, Neymar, Suarez & Bale).
Hopefully, Jurgen Klopp can convince Emre Can that Liverpool is the best place for him to improve and excel in his career. With the addition of Mohamed Salah and the potential arrival of Virgil Van Dijk and Naby Keita and if Phil Coutinho stays, Liverpool could go on to become a real force domestically and in Europe.
Have your say. Do you think Emre Can will leave Liverpool this summer? Do you want him to stay at Anfield?
Follow Me On Twitter For More Liverpool Discussions @mquinn1994