Leicester vs. Liverpool – League Cup Match Preview
Team News
Jurgen Klopp has pretty much confirmed several players that will feature in Liverpool's League Cup clash against Leicester. In his pre-match press conference, the German said: "I'm not sure the world is ready for such a crazy decision, a third goalkeeper in one season! Danny Ward will play tomorrow if nothing happens overnight."
"Marko Grujic has made a big step in his development but no-one has seen it because he hasn't played. It's good he'll have a chance," so I also expect to see Grujic in the starting XI.
Klopp also said this of Alex Oxlade-Chamberlain: "It's a fantastic opportunity for Alex. He had an impact when he came on. Now you have three of the line-up!
"We work with him and the analysts and show him how we want him to play in different positions. It's good."
Jon Flanagan is also expected to feature in the squad as Klopp agreed that it "makes sense" for him to be involved.
Leicester boss Craig Shakespeare, in his pre-match press conference said Jamie Vardy is unlikely to play against Liverpool as he has a groin strain and Matty James, Christian Fuchs and Robert Huth are all likely to miss out too.
Current Form
Liverpool (last six results in all competitions) –
Liverpool 1-0 Crystal Palace
Liverpool 4-2 Hoffenheim
Liverpool 4-0 Arsenal
Man City 5-0 Liverpool
Liverpool 2-2 Sevilla
Liverpool 1-1 Burnley
Leicester (last six results in all competitions) –
Arsenal 4-3 Leicester
Leicester 2-0 Brighton
Sheffield United 1-4 Leicester
Manchester United 2-0 Leicester
Leicester 1-2 Chelsea
Huddersfield 1-1 Leicester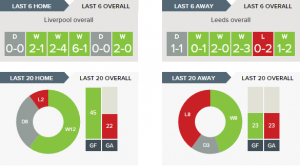 Prediction
To my dismay, predicting Liverpool's results is getting harder as the weeks go by. It's made even more difficult when the starting XI of both clubs will be a hybrid of their first and second string.
With that being said, come the full-time whistle, I think the score-line will be Leicester 1-2 Liverpool.
If you'd like to follow me on Twitter, you can do so here – @StevenCarsonNR.