Sevilla 3-3 Liverpool – Champions League Match Reaction
Liverpool were looking very good at half-time in Seville; a confident performance by Roberto Firmino and a couple of great Philippe Coutinho corners meant the Reds were up 3-0 going in to prepare for the second 45′.
If you're a frequenter of Twitter, I'd strongly suggest muting the word 'Istanbul' for while as a game finishing 3-3, when it was 3-0 at half-time, is synonymous with the famous night in Turkey.
Muting the word 'Istanbul' for the remainder of 2017.

— Steven Carson (@StevenCarsonNR) November 21, 2017
Going into the game, however, I'd have taken the point – given our performance against Sevilla in the reverse fixture. Luckily, a shock draw between Spartak and Maribor means that Liverpool are extremely unlikely not to qualify…Spartak would need to beat Liverpool 8-0 in the final remaining fixture of Group E.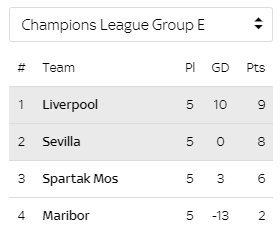 Throwing away a 3-0 need is embarrassing but Liverpool have very little to fear moving forward. Three goals against Sevilla, in their own back yard, is still quite impressive.
Liverpool's attack is firing on all cylinders but, as per usual, the defence isn't worthy of Champions League football.
When Liverpool attack it's like watching Barcelona at times, when they defend it's like watching Blackpool almost every time.

— Steven Carson (@StevenCarsonNR) November 21, 2017
Let's not overreact. We've embarrassed ourselves by shipping three goals but at least we didn't lose 3-0. Bobby, Phil, Sadio Mane and Mo Salah are looking fiery and I, for one, am excited for our next game.