Liverpool vs. Man City – Premier League Preview
It's here – the game where a lot of people are beginning to believe Manchester City will, finally, be stopped – it's Liverpool vs. City at Anfield!
The Reds will be looking to get revenge after being thumped 5-0 by Sunday's visitors in the reverse fixture; the fixture that you could argue earmarked the beginning of the soon-to-be champion's onslaught of the Premier League.
But we can forget all of that, this is Liverpool and this is Anfield – nobody comes here and expects to win. Nobody. Teams like Manchester United and Everton put ten men behind the ball and home for a cheeky counter-attack.
City will likely not take the approach of other teams though – I'm expecting a clash of titans this weekend at Anfield, two teams going at it. I fully expect there to be blood drawn at both ends.
Liverpool have Mohamed Salah returning from a short stint on the sidelines, he'll likely partner up with Sadio Mane to make the nightmare complete for City's full backs.
Jordan Henderson is still not expected to return for this weekend's fixture so the armband will be passed onto someone else, perhaps the former City man James Milner.
Alberto Moreno is also in line to be available for Jurgen Klopp's selection but I wouldn't put my money on the Spaniard walking back into Andy Robertson's place.
If the game is going Liverpool's way, I think there might be a chance for Daniel Sturridge to come on and possibly bid farewell to the fans but I'm not sure, even at 3-0, we'd feel that comfortable against City.
It's far from news but City will be without star players Gabriel Jesus, Vincent Kompany and Benjamin Mendy as they visit Anfield this weekend.
Liverpool's last six results (in all competitions) –
Bournemouth 0-4 Liverpool
Arsenal 3-3 Liverpool
Liverpool 5-0 Swansea
Liverpool 2-1 Leicester
Burnley 1-2 Liverpool
Liverpool 2-1 Everton
City's last six results (in all competitions) –
City 4-0 Bournemouth
Newcastle 0-1 City
Palace 0-0 City
City 3-1 Watford
City 4-1 Burnley
City 2-1 Bristol City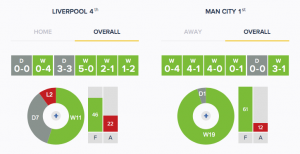 In the Premier League this season, Manchester City visiting Anfield is the biggest challenge for both clubs – the teams are the two best attacking teams in the country.
There will be goals at Anfield on Sunday, with the signing of Virgil van Dijk, hopefully they'll not all be in Liverpool's net.
At the full-time whistle, I predict that the scoreline will be Liverpool 4-3 Man City; their first loss of the season.
Follow me on Twitter if you fancy – @sjrcarson