Liverpool vs. Newcastle – Premier League Preview
When the Premier League is gone for a little while – literally just over a week – it feels like it's been gone for far too long.
What a game we've got to come back to though, eh? Liverpool take on the #BeastFromTheEast at Anfield this weekend – Newcastle and not Storm Emma, although both may be applicable.
Rafa Benitez makes his latest return to Anfield which I'm sure will result in many Liverpool fans showing their respect for a former successful manager.
I just hope that the Anfield faithful don't forget we've a new man in the dugout and he also has his own song (even if it's not quite as fun to sing – maybe he needs a new one).
Team News
No fresh injury concerns for Liverpool this weekend, the first team squad is match fit and ready to go, Nathaniel Clyne even looks as if he'll get a game soon.
Maybe we should sing a song for the physio team?
Newcastle, however, do have a couple of concerns as they make the trek to Anfield. Former Red Jonjo Shelvey won't feature as he's injured his knee and Islam Slimani doesn't look like making the game either with thigh strain.
Dwight Gayle is also a slight doubt but will face a late fitness test to see if he'll feature – I'd expect to see him come off the bench in the 60th minute to the horror of Liverpool fans.
Jesus Gamez is also injured for the Toon.
Current Form
Liverpool (last six results in all competitions) –
Liverpool 4-3 Man City
Liverpool 2-3 West Brom*
Huddersfield 0-3 Liverpool
Liverpool 2-2 Spurs
Porto 0-5 Liverpool
Liverpool 4-1 West Ham
*The only result Newcastle fans, for their own sanity, should focus on.
Newcastle (last six results in all competitions) –
Man City 3-1 Newcastle
Chelsea 3-0 Newcastle
Newcastle 1-1 Burnley
Palace 1-1 Newcastle
Newcastle 1-0 Man United**
Bournemouth 2-2 Newcastle
**Nice one.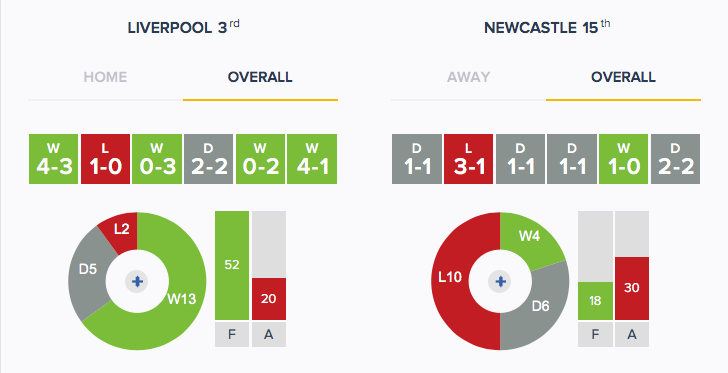 Prediction
To be honest, Newcastle aren't cut from the same cloth as Liverpool. Maybe once it was close but it's no longer the case; we're vastly superior in every way.
Which is why Newcastle are a danger.
You see, I'd rather face Arsenal or Everton than Newcastle. I'd put money on us coming away with points.
With a club like Newcastle, they've got nothing to lose, like we saw when Man United went to visit the Toon, they're a danger.
That being said, it's a bit of a myth that Liverpool fail to turnover the 'smaller' teams as we've done considerably better this season.
Newcastle haven't lost of their last four games, they'll know that, but Anfield is probably the worst place to play this season if you're not wearing red.
I think Liverpool will put at least two goals past Newcastle and I think the Toon will be lucky to put one past us.
My prediction is Liverpool 3-1 Newcastle.
Follow me on Twitter if you fancy – @sjrcarson.