More Than A One Man Wolf Pack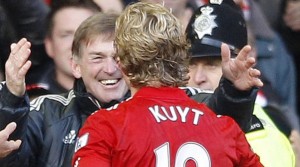 Last week was a strange one, wasn't it? After an embarrasing 3-1 reversal at the Reebok Stadium, Liverpool turn things around to progress to the finals of the Carling Cup by knocking out top-dog Manchester City, before providing crosstown rivals Manchester United an early exit from the FA Cup with a display any manager would be proud of. It's this kind of yo-yo form that makes the Reds so frustratingly spectacular to watch. While we're constantly catching glimpses of what this squad can do, the inconsistencies that plague us are running rampant on our point tally. With a trip to the Molineux on the cards for tomorrow, you have to wonder: which squad is going to make the short trip to Wolverhampton?
One of the only players you can bet the farm on, that is if his knee's allow it, is Craig Bellamy. The Welshman has been in resurgent form since returning to Liverpool on deadline transfer day, and his dogged hard work has not been lost on the Kop faithful. It's almost as if he has a point to prove after a less than fruitful first time around at the club he supported as a boy. With all our woes in front of net, Craig has been a shining light in the dark abyss of team-wide goal droughts. The absence of Luis Suarez, who scored in the reverse fixture last year, has only compounded our attacking woes, but getting on the score sheet was always the hardest part anyways.
We certainly didn't find it easy going the last time around. Under fire Wolves manager Mick McCarthy has kept his side strong and organized at the back, while staying strong on the counter attack. They may not be the prettiest side to watch, but on their day Wolves can cause any number of problems for even top teams. Even when under pressure, they keep their shape well and can quickly shift the ball to their wingers as ignition for a jaunt forward. Andy Carroll enjoyed one of his better matches in a Red shirt against Manchester United on Saturday, and that type of display will be needed against a powerful Wolves central pairing. If he's again able to hold the ball up well, and maybe pot a goal, he'll start to lift some of that price tag weight off his shoulders.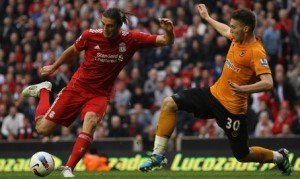 Not isolating him alone up top could work as well. With Gerrard back in the fold, our creative problems from the midfield have been all but solved. We're not quite Barcelona just yet, but we no longer look like Stoke when we're trying to get forward. It's the intelligent runs and space the Captain creates that's crucial to Carroll being effective up top. With Dalglish confirming that there will be no senior squad additions during the transfer window, the presence Stevie provides will be crucial during the second half of the season.
The gaffer may have killed any dreams we had about Edison Cavani showing up at Melwood in January, but our defence has been just as valuable, if not more so, then our attack. The central pairing of Agger and Skrtel has been solid as a rock and the burly Dane even popped up with a well headed goal on Saturday. Jose Enrique and Glen Johnson have made the flanks their homes and their ability to get forward has benefitted us in ways we never thought possible mere seasons ago. As the back four easily dealt with waves of both Manchester City and United attacks, the influence of Steve Clarke is now making itself more apparent with each passing day.
While we go into the Wolves den with confidence brewing, the goodwill buzzing around the Liverpool camp won't count for much if we can't build on last weeks success. We still need to score goals, a problem that appears to be working itself out, but with our league form not matching that of in Cup competitions, there are still questions on the table. We're up for the big ones, but aren't bothered with the minnows; let's see if Dalglish can reverse that trend.
steven.
How about a like on Facebook? Or a follow on Twitter? We're interesting! I promise!