Alas, Here Comes Scott Parker To Block All The Shots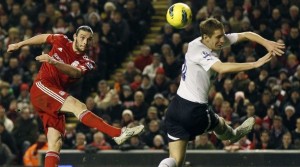 In a season filled with those kind of nights, we're left to ruminate on yet another one. A scoreless draw with Tottenham sees Liverpool remain unbeaten at Anfield, but still bogged down in 7th place as their Champions League aspirations took another hit. Although it was one way traffic for most of the evening, the Reds again failed to capitalize on their chances as Andy Carroll, Daniel Agger, Glen Johnson and a returning Luis Suarez all missed golden opportunities to turn a less than favorable result into something the Kop could sing about.
Many may see this as two points dropped, and against a Tottenham lineup missing many of their key men it's hard to argue against that. Even Harry Redknapp was preoccupied with his tax evasion trial, keeping him in London for the evening. With Liverpool riding a wave of proper form, expectations were certainly high.
While we were pretty even in possession throughout the match, it was obvious who was pushing for a result. Spurs rarely threatened at all, content to sit back and encourage pressure. Jay Spearing, retaining his place in the holding role beside Charlie Adan, showed his age with a number of impatient, errant passes that were slightly more than groan worth. Faulting the youngster for trying to hustle a Liverpool attack that takes far too much leisure time when they should be breaking fast would be a flaw in itself, but Spearing came close to justifying his inclusion with a curling shot from the top of the box that flew only inches wide of a diving Brad Friedel.
The 40 year old one time Liverpool 'keeper remains a vintage shot stopper in an era of error prone, anxiety ridden youngsters. Glen Johnson came close to finding a breakthrough when his mishit cross floated across him before taking a dip towards the bottom corner, but the 'ole Baldy was on cue, parrying away before his face turned a certain unsightly shade of Red.
The midfield battle between Steven Gerrard and Scott Parker was a real gem to watch. While Gerrard remains our best player, peeling the years back with each darting run and clever pass, Parker showed why he's so valuable to Tottenham by getting in front of absolutely everything and all but securing a place in Fabio Cappello's squad for Euro 2012 with another assured performance.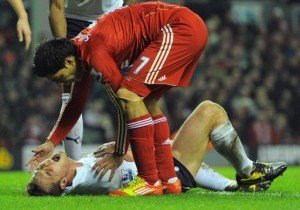 Even though Luis Suarez was available from the outset, Dalglish decided to reserve the Uruguayan for a second half appearance, replacing Dirk Kuyt with just over 20 minutes left to play. Our Number Seven has been out of action since Boxing Day and even with a lack of match sharpness rearing it's ugly head, his presence was immediately felt as Liverpool began to take control and make their dominance show.
Although the fairy tale return eluded him, Luis's runs through the channel and his interplay the new Andy Carroll made the cliche of saying he's like a new signing a little less hokey. Our Geordie number nine battled throughout the match with both Ledley King and the impressive Michael Dawson all night, winning as many headers as he lost, but his knockdowns have become more accurate and found a Red shirt to create a dangerous opportunity on more than one occasion.
The expected scorn that was heaped on Suarez by the travelling support was doubled over twice for Gareth Bale. The Welshman was kept quiet for essentially the entire evening, with Dirk Kuyt and Martin Kelly giving him little room to breathe. His frustration began to show when he was booked for diving and lashed an erratic shot well wide from an impossible distance. Usually dynamic, Bale was being cut down at every avenue, though he ended up with the best chance for Spurs when he ran onto a Niko Kranjcar pass, only to see Pepe Reina get down to block as he tried to slide it through the Spaniard's legs.
With only minutes remaining, the usual flurry of attacking ensued with Liverpool making all the headway, but seeing all goal bound efforts ricochet off of Scott Parker. Ending goalless left a lot to be desired; yet, it wasn't quite as frustrating as seeing the Canaries snatch a point. Or Swansea. Or everyone else who came to Anfield this season and left with something they didn't deserve. Two points lost or one point earned? Argue about it all you'd like, I'll look forward to seeing Liverpool get back on track at Old Trafford this weekend.
Ta-ra for now!
-steven.
How about liking us on Facebook or following us on Twitter? It won't give us the two points we missed out on, but it might put a smile on your face, or, in the very least, increase the profanity in your timeline.