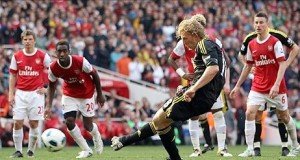 There's nothing better than Arsenal first thing Saturday morning. Actually, that's a lie. I can think of about a million things I'd rather be doing. Winning the Carling Cup last Sunday after going 120+ minutes and then having almost all of our squad participating in meaningless — and costly — midweek international friendlies, is enough to give you the one serious case of the doubts. Couple that with the Gooners putting 5 goals past Tottenham last time out and you can make a pretty solid case for the prosecution. So, washing my eyes out with bleach or hanging out with the exiled McDonaldland charactersin the corner cell at Guantanamo Bay doesn't sound as bad as you might think.
Maybe I'm being a tad melodramatic, maybe I'm not. Meetings with Arsenal, even at Anfield, have never been cut and dry affairs. Despite the Gooners being successful in their own respect, they've never truly been one of our major rivals. This season, things are a tad bit different with both sides laying just inside and just outside the Champions League places as the real push rack up the points before the end of the season swings into top gear.
When you're trying your damnedest to do that, having two of your best players doubtful is hard to hear. It's been confirmed by the club that Daniel Agger will be missing out on Saturday — and over the next couple weeks — as he recovers from yet another fractured rib. The Danish defender has been one of our most consistent performers this year and his partnership with Martin Skrtel has been the rock our goal shy squad has depended on to keep them in contention. Although we have both Jamie Carragher and Sebastian Coates waiting in the wings to fill in, yet another problem is flaring up right in front of the back line.
While Arsenal remain tight lipped on Robin Van Persie and his groin problem, Liverpool have been mum on the state of Steven Gerrard. The influential Captain went the distance against Cardiff on Sunday before being denied the armband for his country a mere 72 hours later where he was withdrawn as a "pre-caution" with a tight hamstring only 32 minutes into the Three Lion's 3-2 defeat at the hands of Holland. Although the club has yet to make anything official, Gerrard remains a doubt in my mind for anything short of a cameo role on Saturday.
The fortunes of both sides have been eerily similar over the course of this season with inconsistent form marring the point tally they've been expected to accrue. Injuries to a number of fullbacks has taken a toll on Arsene Wenger's goals against ratio while the loss of Lucas has seen the Reds lose some of the steel that's made us so strong at the back; but defensive woes haven't been either side's only concern. The aforementioned injury to Arsenal top scorer Robin Van Persie will have Gooner's everywhere biting their nails while the worrying display both Andy Carroll and Luis Suarez turned in against the "lesser opposition" of Cardiff City will have the Kop dreading more of the same old, same old.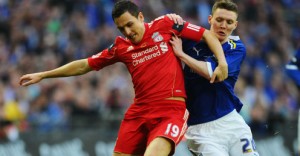 In a surprising twist of fate, Stewart Downing actually turned in one of his more impressive performances since his big money move to Merseyside during the summer transfer window. The English winger also turned in a half decent performance for his country mid-week and Dalglish is expected to stay the course with Stewart on the left rather than risk Craig Bellamy who wore the Captain's armband for Wales during the Gary Speed memorial match against Costa Rica on Wednesday.
Despite a number of players returning to the Arsenal squad, the North London side remain a tad shaky at the back and particularly prone to quick counter-attacks. While the win over Spurs may signal the beginning of another upswing in what has proven to be a teeter-totter season, doubts still remain that this squad will have the staying power to retain fourth place or, as Arsene Wenger mused, to catch Spurs who lie 7 points ahead of their closest, fiercest rivals. Before they can concern themselves with what the White team from North London is up to, their going to have to get through a Liverpool side that has yet to lose at Anfield this season.
Our home form hasn't been as good as it could be, but if running out winners against the Gooners at the Emirates all the way back in August is any indication of whats to come, we have nothing to fear. Pre-match jitters aside, as I continually write, we always get up for the big matches. I know, it's a bit like beating a dead horse having to repeat that line over and over again, but it's true. Maybe if Kenny can start beating some consistency out of this squad, I can start giving that poor horse a rest.
–steven.
Need a wardrobe update? Look no further than right here and win a brand new Liverpool home kit courtesy of Soccerpro.com