Statistical Profile: Gylfi Sigurdsson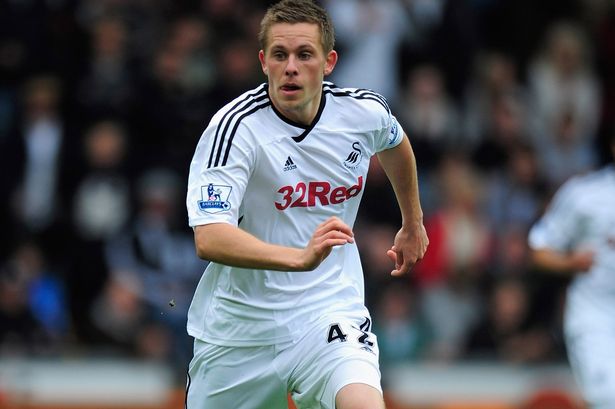 Name: Gylfi Sigurðsson
Country: Iceland
Age: 22
Height: 1.86 m
Weight: 77 kg
Position: Attacking Midfielder

Honours:
• Premier League Player of the Month: March 2012
• Football League Championship Player of the Month: March 2010
• Reading Player of the Season: 2009–10
• Hoffenheim Player of the Season: 2010–11

Transfer rumours are curious things. They tend to emerge quickly and vanish even quicker, too lacking in substance to sustain themselves for any decent length of time. In the case of Gylfi Sigurðsson however, a certain degree of substance exists, even if his future remains uncertain. This is a rumour worth persisting with.
All but confirmed as a permanent Swansea player last week, after a successful 6 month loan stint in South Wales last season, the Icelandic attacker appears to have a difficult choice to make. Does he follow his mentor Brendan Rodgers to Liverpool, the man who fanned his considerable talent into flames after a stagnant period in the Bundesliga? Or does he complete his Swansea move and hope they remain true to their positive style and upward course under a new manager?
His latest comments seem to indicate that the combined pull of Liverpool and Rodgers will ultimately prove to be too alluring.
"It's just unclear at this moment where I will play. I'd like to play on with Swansea since I was really happy there but after Brendan Rodgers left the club for Liverpool, that changed the situation. I expect not to stay at Swansea because of the uncertainty going on there as it is not clear who is boss. I have said that my desire to continue playing in the Premier League and Liverpool is completely considered. Liverpool is a big club that has a glorious history. English Premier League is the platform that I want to be and hopefully is that I continue to play in that division."

– Gylfi Sigurdsson
Certainly new Liverpool manager Rodgers hopes to get the chance to bring the brightest young star of his Swansea side to Anfield.
"Gylfi came to Swansea because I was there as manager and his scoring record was fantastic, I pushed the club to make an agreement to sign Sigurðsson permanently and they did that in terms of the fee – and agreed the salary."

"So I have said to Huw [Jenkins, Swansea chairman]: 'I'm not going to do anything untoward. This is a guy you want, but it is down to Gylfi'. If he comes on the market I have to be interested. He knows that I rate his qualities and abilities. "

"I said to Huw: 'If I speak to the kid, I'll tell him to speak to the new manager, whoever that is'. But if he's not comfortable with that, he's in the market place then – and I have to look at him."

-Brendan Rodgers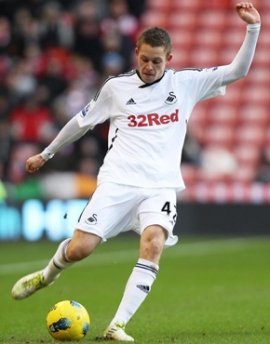 Playing Style:
Sigurðsson is an interesting player – a combination of midfielder and forward in the one package. He can certainly finish, as his 7 Premier League goals attest, yet he has so much more to his game than that. Passing, set pieces, long range shooting, poachers' goals, dribbles – Sigurðsson has a little bit of everything.
Supremely suited to Rodgers' tactical system as the only vertically-minded midfielder of the central trio, Sigurðsson keeps possession well like the majority of Swansea players do. But he is the one most responsible for penetration. Whereas Britton and Allen focus predominantly on recycling possession and keeping the ball moving, Sigurðsson is the midfielder most likely to execute an attacking move, be it a shot, a run or a well-weighted forward pass.
In terms of playing style, Sigurðsson to me strongly resembles Steven Gerrard, or at least the attacking portion of the skipper's game. Certainly he's nowhere near as versatile, dynamic, nor as defensively gifted as our Captain Fantastic. Yet his stature, and the way he glides through defences before confidently unleashing long-distance bombs has more than a touch of 'the Stevies' to it.
Continuing the comparison to Gerrard, it's clear that Sigurðsson's attacking quality is similar based on statistics posted last season. Interestingly both players took part in only 18 Premier League games last season – undoubtedly Gerrard's performances were curbed this season by injury. The Liverpool Captain also had a deeper role with less scope in attack than his Icelandic counterpart, and was furthermore part of a team that statistically had less of the ball. Liverpool's woes in the penalty box are also a contributing factor – many of the chances created by Gerrard were spurned by our misfiring forward line. Gylfi has slightly better passing stats than Gerrard, which is unsurprising given Swansea's preeminence with possession play. Conversely, Gerrard converted a better percentage of his scoring opportunities, most likely assisted by his slightly better shot accuracy.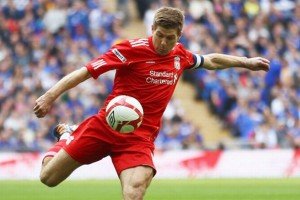 The two statistics at the end of the chart above were designed to measure how effective either player had been – hopefully a balanced portrayal of how busy they'd been on the field, how involved they were in the play. For the MPAC (Minutes per Attacking Contribution) rating, I divided the number of minutes played by the key attacking contributions each player had made (shots, chances created – things that cause goals to be scored) to see how often each player was involved in a potential scoring situation. This number gives us an idea of the threat each player carried throughout the season. Significantly, Sigurðsson was able to shoot or create a scoring chance for another player as often as every 12.4 minutes on average. Gerrard, from his deeper position, still carried a potential threat every 20.3 minutes.
The second value MPQAC is adjusted for quality, calculated only using shots that were actually on target. I made this modification to try and reflect if there was a clear quality difference between the two players – is one of them just a hard worker who gets a lot of shots away? Is there a clear difference in their ability to produce quality shots and chances regularly?
Quality of play is extremely important in a team aiming to establish itself as a true force in European football. For example, Charlie Adam is a very busy player, he racks up statistics at a phenomenal rate. But being involved in play a lot doesn't reflect the variable quality of his involvement – Charlie would regularly produce both the sublime and the ridiculous in any given passage of play.
The MPQAC calculation sees both Gerrard and Sigurðsson maintain healthy numbers, with Sigurðsson's actual goal threat at a respectable 20.5 minutes. From central midfield, Gerrard needed 30.4 minutes to create or fashion for himself a quality scoring opportunity.
Even if Sigurðsson signs, Gerrard must regularly play closer to goal in the next campaign. We are underutilizing a marquee attacking weapon, one whose individual talent can decide matches. Such wastage must be minimized if the Rodgers Revival is to be as successful as we all hope. Meanwhile, Sigurðsson could provide more-than-adequate cover for the skipper, and afford the manager the luxury of picking and choosing carefully when to unleash Gerrard, potentially minimizing injuries and keeping him fresh for the entire campaign.
How Gylfi Scores Goals:
To get the data for the following analysis, I watched all of Sigurðsson's goals for Hoffenheim and Swansea, tallying up which foot was used, where the ball was struck from, and what area of the goal the ball entered.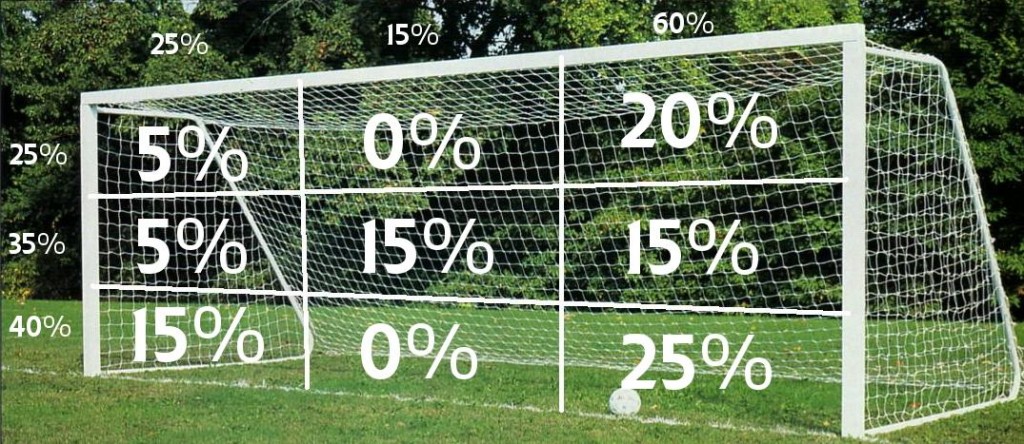 Immediately we can see a clear pattern with Sigurðsson's goal placement. 60% of the goals analyzed were placed in the right-hand third of the goal, while 40% of his goals were scored in the bottom corners, the location which is hardest for goalkeepers to protect.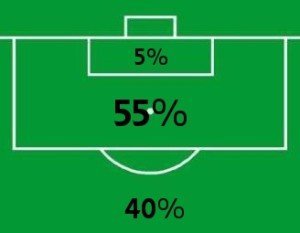 In terms of range, Sigurðsson scores an amazing 40% of his goals from outside of the penalty area. His ability to score directly from free kicks is certainly a factor in inflating this stat – 25% of the goals analyzed were set piece strikes. He has a shooting accuracy of 64% from dead-ball situations, while he maintains an exceptional 55% accuracy when shooting from beyond 18 yards. Quite simply, the kid is a cannon, aim and fire.
While the current Liverpool squad boasts more decent set piece takers than we've had in recent years, we still lack a regular goal threat from free kicks, so a dead-ball scorer would be of great benefit to the team.
55% of Gylfi's goals were scored in the box, demonstrating he has the engine and the intelligence to get himself free in optimal scoring positions. His interplay around the area is high quality, with quite a few of his goals coming from multi-pass moves or even clever 1-2s with overlapping teammates running in support. While he's not the quickest in terms of pace, his touch is silky, and he thinks at lightning speed, always causing problems for defenders.
Sigurðsson scored 90% of his goals with his trusty right boot, although his instinctive left-footed curler against Blackburn in April shows he's far more than a one-foot-wonder. He also had a headed goal to his name, while a couple of confidently converted penalties from his time in the Bundesliga demonstrate both his calmness and his courage.
Verdict:
I'm strongly in favour of signing Gylfi Sigurðsson. He is a perfect "halfway" transfer target – good cover for Gerrard, but crucially further along in his development than Shelvey. He already understands the manager's philosophy, has proven he is good enough in the league, and adds the vital goals from midfield we sorely lacked in our last league campaign.
With a rumoured fee of only £6.8m, and at 22 years of age, there is very little downside to a move like this. Snap him up, Brendan.
-Grubb-

If you enjoyed this profile, please share it via your social network of choice.