Craig is a Bluebird, Joe will be a Liverbird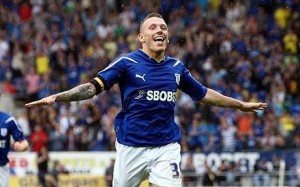 The News Desk has been on red alright all morning waiting for confirmation that Craig Bellamy has turned Blue. The Welsh striker has been permitted to leave Liverpool on "compassionate grounds" and this morning wrapped up a 2 year deal with home town club Cardiff City.
After spending the summer with Team Great Britain, Craig's future at Anfield seemed questionable at best after interest was shown by both Queens Park Rangers and Cardiff City. It's believed that Bellamy will be taking a wage cut by joining back up with the Bluebirds, but the loss in wages is a moot point as he would prefer to be closer to his family. There's been no news on how this might affect his recent sponsorship with Liverpool's kit manufacture Warrior Sports.
With one Welshman out the door, it looks like another will be coming in shortly as Joe Allen is expected to complete his medical at Melwood later today. The youngster watched the Reds run out 3-0 winners last night in the second leg of their Europa League tie with FC Gomel and it's expected he'll wrap up his reunion with Brendan Rodgers within the next 24 hours after Liverpool matched the £15mil buy-out clause in his contract. It's believed that Swansea city boss Michael Laudrup was hoping to spark a bidding war by talking up his valuation of the youngster, but with the Reds striking early, the completion of this move is now nothing more than a formality.