Suarez Warns Against Uruguay Complacency and Mignolet Revels in Belgium Chance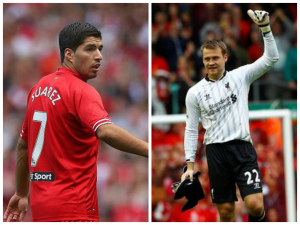 If there were ever two entirely different players, Luis Suarez and Simon Mignolet would be them – one is reserved and the other is fiery, one scores spectacular goals while the other keeps them out and one plays for Uruguay… and the other plays for Belgium. Maybe that's not a startling revelation, but both Liverpool players are in the news ahead of the upcoming round of internationals.
Suarez, who hooked up with the Uruguay national team in Turkey following the Reds 4-0 dismantling of Fulham on Saturday, will play a key role in La Celeste's World Cup Play-Off match with Jordan come Wednesday – and the striker, who has 8 goals for Liverpool since returning from a 10 game ban, is worried his teams big ticket name could lead to over confidence in the camp.
"Jordan will be very motivated to play us, just as teams are when they meet us in the World Cup and the Copa America," said the Liverpool striker, who continued, "We have to be careful. We know Jordan have fast outfield players and if you leave space, they could show their quality." Jordan will take extra motivation from the possibility of being the only Middle Eastern side represented at the World Cup next year with other regional superpowers falling by the wayside.
While we're unlikely to see an upset in the two legged tie, there's a good possibility we'll see Suarez on the score sheet – and on the other side of the spectrum – we're going to be seeing Simon Mignolet between the sticks for Belgium. The Liverpool shot stopper, who made the £9mil switch from Sunderland to Merseyside this summer, is being handed a starting berth by national coach Marc Wilmots for his side's upcoming friendlies with Colombia and Japan.
With Belgium already qualified for the big show next summer and Thibault Courtois – who's on loan at Atletico Madrid from Chelsea – out with a slight injury from training on Monday, the 25-year old is looking to impress on the international stage. "I'm happy to have the chance to play. I'm going to try and give my best and show what I am capable of with the Devils" said Mignolet. "Now that the manager has given men the chance, the least I can do is repay him with two good performances."