Gerrard Ruled Out, Henderson in with a Shout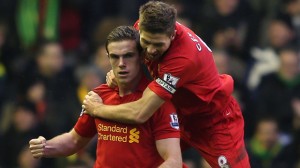 The News Desk wasn't surprised to hear the fax machine squeal to life with reports that Steven Gerrard has been ruled out of England's friendly with Chile this Friday at Wembley – to be fair, we didn't think he was going to be fit enough to face Fulham last Saturday.
The England and Liverpool captain picked up a hip injury during the closing stages of the Reds 2-0 loss to Fulham almost a fortnight ago and was a doubt for the visit of the Cottagers over the weekend. Well, Gerrard was certainly involved – more than he'd been all season – and was heavily involved in all four of his side's goals before being subbed off for Joe Allen midway through the second half. There were rumours floating around Monday that he wouldn't be able to make what amounts to a meaningless encounter with the South American side, and today it's been confirmed.
With the skipper ruled out, there's an increasingly likelihood that we'll see Jordan Henderson at some point. Like any footballer worth their salt, Henderson prefers to be involved rather than watching from the sidelines. "It's a massive boost and I'm delighted to be going there," he told the Liverpool Echo, "But when I am there I need to make sure that I am working hard and keep doing what I have been doing here and do the best I can and make sure I am getting picked again."
The former Sunderland man is making his first return to the national set-up since the Three Lions exit to Italy at Euro 2012 and will be in the mix with Frank Lampard, and reported Liverpool target Adam Lallana, for a starting berth in Roy Hodgson's midfield; but unlike his competition, the 23-year old has shown this season that he's able to play effectively all over the park – something few players in the England squad, including Steven Gerrard, can boast.