Tello Reportedly Rejects Liverpool Loan Switch, Will Consider Future this Summer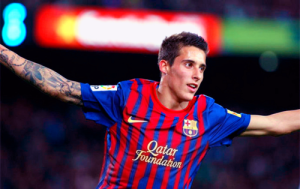 Some players just love to talk and highly rated Barcelona winger Cristian Tello is one of them. It's another day and another quote from the Spaniard amid reports that he's rejected a loan move to Liverpool for the remainder of the season.
The 22-year old, who has managed only a meager four starts in all competitions for the Catalan giants this season, has been continually linked with a move away from the Nou Camp with a lack of playing time cited as the sole reason for his growing discontent. Despite finding minutes hard to come by, it appears that things aren't that bad in sunny Spain after all – at least not bad enough to consider a move to Merseyside this January.
"I will definitely stay at Barcelona until June, then we will see in the summer," he told Spanish media outlet Marca following his team's 2-0 win over Getafe on Thursday night. Although Liverpool have been linked with a move for Egyptian winger Mohamed Salah – a deal that looks to be dead and buried – Tello has remained a long term target for Reds boss Brendan Rodgers, though now it looks like he'll have to wait until the summer to make another offer — you know, if we even made one at all.
Regardless of whether this "approach" was nothing more than the imagination of a journalist, with his contract running until 2018 Barcelona is in no danger of losing the highly rated winger on a free transfer and don't have to do business now. Whether the player has refused a move or his club want to keep him in reserve is open for debate, but unless something drastically changes, it's likely that the 22-year old will miss out on a spot in Spain's World Cup squad this summer; if you don't play, you usually don't get a spot.