Gerrard Discusses Italy, Playing Against Suarez and Going Deep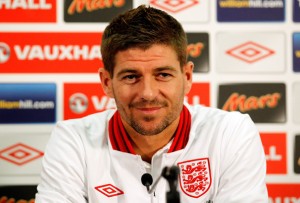 As the rest of the world looks forward to Liverpool's trip to Manchester United this weekend, the Football Association distracted Reds captain Steven Gerrard for a few moments to discuss preparations for the upcoming World Cup in Brazil.
With a tough group ahead of them, Roy Hodgson's men face a challenge to even get to the knockout stages and Gerrard, who also moonlights as the captain of the Three Lions, thinks that getting the right result against Italy in their opening fixture could be the key to seeing them through. "It's slightly different as it was in the knockout stages we met Italy last time, but of course we want the right result, which is ideally a win" said the 32-year old when asked if their last meeting with the Italians will add to their motivation. "But I think if we avoid defeat in the first game it will set us up nicely for the rest of the group."
"Avoiding defeat" sounds like a Hodgsonesque thing to say, but it's not unlike an international captain to take a pragmatic approach – especially when you also have a meeting with Uruguay on the cards. "I'd rather play on the same team as him, of course I would. He's a world-class player who can give problems to any opposition he comes up against" Gerrard continued when asked about the upcoming meeting against Liverpool teammate Luis Suarez. I know his strengths and I know the very few weaknesses that he has. But I'm looking forward to competing against him."
There's also a good possibility that the captain could come up against the South American goal machine while playing in the deeper role that we've seen him take on for Liverpool as of late. "The experience as a younger player at right-back, playing in defence from time to time, playing as a holding midfielder for club and country has helped me to adapt into this role quicker than people probably thought I would do" he said. "I've played this role on various occasions for England as well and I felt that I've done well in there. Wherever I'm asked to play or whatever job I'm asked to do I'll give it everything."
Considering Gerrard is expected to retire from international duty following this summer's showpiece event, it wouldn't be so bad if he gave it "everything" one last time – then, he can focus on finally winning the Premier League title with Liverpool.