Depending on Whom You Believe: Cheryshev? Depay? Lacazette? Either way, the Reds are Looking for Firepower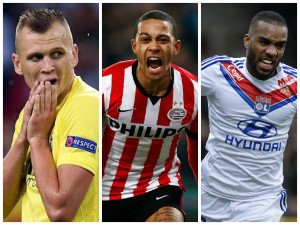 Liverpool's woes in front of the net continued in earnest during Tuesday's shock loss to relegation threatened Hull City with the Reds unable to find the back of the net for the second time on the hop.
With star striker Daniel Sturridge almost certain to miss the remainder of the season and the rest of the Anfield strike-force — including Southampton transplant Rickie Lambert, AC Milan outcast Mario Balotelli and compatriot Fabio Borini — not looking up to the task, boss Brendan Rodgers has been left frustrated by his sides lack of sharpness in the final third, leaving him no choice but to throw down the gauntlet and tell his players that unless they shape up, they could be playing their football elsewhere in the very near future.
While there's likely to be a major shake-up at Liverpool this summer following what's thus far been a disappointing season, the Northern Irishman hasn't been shy about his plans to bring in "one or two" marquee names when the transfer window opens in July. Just how much the Reds will have to spend — or who will be in charge of the shopping — is anyone's guess at this point, but they've been linked with some big talent in the last couple of weeks with Real Madrid winger Denis Cheryshev the latest name thrown into the rumour mill.
The Russian wide man is currently on loan with Spanish club Villareal where he's scored seven goals in 32-appearances for the Yellow Submarine this season. Although it's believed that he's unlikely to break into the Los Blancos first team when he returns to the Santiago Bernabeu, that doesn't mean that the defending Champions League holders will let the 24-year-old leave on the cheap with a price-tag of £22mil firmly attached to him — right around the same amount that PSV Eindhoven want for Memphis Depay.
"If that were to come true, that would be a dream," he told Dutch newspaper De Telegraaf when asked about a big money move away from the Eredivisie champs. "I think that is what everyone wants." With 21-league goals to his name this season, that's what a lot of teams want and rumour has it that Liverpool are one of the only clubs to have held official talks with the club regarding his future.
That being said, maybe a out-and-out striker will be more to the Reds tastes with man of glass Sturridge an on-going injury concern. Of course that brings us to 30-goal Lyon hit-man Alexandre Lacazette who has been linked with a move to Merseyside on more than one occasion. "I think he has the talent to get better and establish himself in a great club such as Real Madrid or Barcelona," former PSG man Pauleta said of the 23-year old in a recent interview. "A player who scores more than 20 goals in France at his age should aim high."
With the Reds looking unlikely to qualify for the Champions League next season, there's a real good possibility that more than one of these players will be doing just that — and their aim will be just over our heads. That is, unless they've got a real keen interest in the Europa League…