West Ham Submit Carroll Bid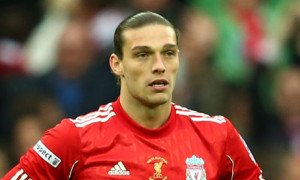 The News Desk was out on a lunch break when the fax machine started squealing with word that West Ham have submitted a bid for Andy Carroll. Hammers boss Sam Allardyce is keen to take the big Geordie to Upton Park and build his team, recently promoted from the Championship, around the England international. Over the past few days Brendan Rodgers has taken steps to smooth over some less than flattering comments he made about a striker a few weeks back, but rumor has it that the club is still looking for a potential suitor for the misfit striker.
The club has already rejected at least one offer from Newcastle United for the services of Carroll and it's believed that this bid will be quickly rebuffed as well. From the sounds of it, West Ham is still looking to take him on loan for the season but will work in a purchase clause of over £15mil if the striker hits certain metrics throughout the season. Although the renewed interest in Carroll may tempt the club into exploring this further, it's believed that the big man doesn't see the Hammers as a feasible option for him. For the time being, Andy has met up with the squad on their tour of the USA and may feature in the match with Spurs this Saturday. That is, if he's not on his way to London – or back to Tyneside — by then.