Alberto Moreno Could Be Handed Liverpool Debut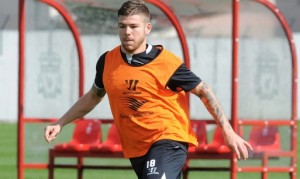 It took quite some time to wrap up his transfer, but it's looking like it may be far less time before he makes his debut with Liverpool boss Brendan Rodgers hinting that you might want to take a punt at http://www.bet365.com/news/en/betting as new boy Alberto Moreno could make his bow for the Reds when they visit Manchester City later in the day.
"At 22, he's hungry to succeed. He has got improvements to make but he's one of the players we've brought in this summer who is ready to play straight away" the Northern Irishman told the clubs official website leading up to the Citizens clash. "We had a practice game here last week and he looked very good. He's one who is coming straight out of La Liga. He's come from the Europa League champions."
Moreno's protracted transfer from Sevilla took the better part of the summer with multiple bids turned down by the Andalusian outfit as they tried to keep hold of one of their best players. After seeing Jose Enrique ruled out for much of last season through injury, providing both competition and cover for the Spaniard became a high priority item. Although the final transfer fee hasn't been officially revealed, it's believed Liverpool paid in the region of £12mil to secure his services — a chunk of money that Rodgers believes was well spent.
"He has got huge potential," said the Reds boss. "We needed a left-sided player. We monitored him for a while and when we felt we got the value and the worth, we were able to clinch the deal. He's a really exciting young player. When you watch him, he's very attack-minded, very quick and he serves the ball really well."
The 22-year old became Rodgers eighth signing of the summer with a host of other players coming in to supplement and build on the squad as the Northern Irishman looks to navigate not only a tough domestic campaign, but also the demands of Champions League football for the first time since 2009. After missing out on the 2-1 win against Southampton last Sunday, should Moreno be handed his debut today, he'll be really up against it as he faces his first trip to the Etihad Stadium and a meeting with a Manchester City side that have been heavily tipped to defend their title.
It sounds like it's going to be straight out of the frying pan and into the fire for the 22-year old, but Rodgers has every confidence that his man is not only ready to compete, but that he'll thrive at Anfield. "He's done great" assured the Liverpool manager. "Last season he was one of the top left-backs in Europe and was highly sought after. He's a boy that will fit well into our way of working."