Liverpool's Injury Crisis Worsens with Two New Casualties Ruled Out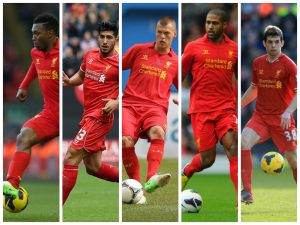 Although it's a bit better than initially suspected, during his pre-match press conference Liverpool boss Brendan Rodgers confirmed that striker Daniel Sturridge will miss the better part of the best three weeks after picking up a thigh injury over the international break.
Initial reports claimed he could be out of action for four months, but that talk was quickly quieted after scans confirmed that his injury wasn't quite that bad. With that being said, it's not particularly good either. "It could be up to three weeks, which is obviously disappointing," the Northern Irishman told reporters at Melwood when asked how long he expects the 25-year old to the ruled out for. He may have only been telling us exactly what we already knew, but unfortunately things only got worse from there.
"We've got Emre Can back from Germany, who could be out for up to six weeks because of his ankle," explained Rodgers before going on to list the other casualty of the international break. "We've got Joe Allen back from playing on awful pitch and he has an issue with his knee. We just need to assess that for the weekend. Those are the types of things than can happen in games and it's unfortunate."
With those two new names added to the injury list, the Reds now have six players on the treatment table, though there was some good news on offer. "Martin Skrtel won't be available for the weekend but will hopefully join up with the team when we train on Sunday. "Glen Johnson still has a wee way to go. Young Jon Flanagan is edging towards [fitness] but is not in the squad yet" he continued before confirming that we've got a player back from injury and they'll be ready when Aston Villa visit Anfield on Saturday. "Adam Lallana has been back in the squad for the last couple of weeks, so he's fine."