Liverpool Look to Take Chelsea's Victor Moses on Loan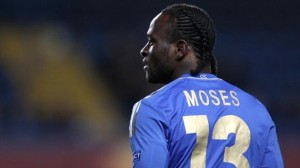 At the beginning of July, the News Desk was scratching the days off the wall until the transfer window closed. Now that there's less than a week left, we're relishing every moment and with reports coming in yesterday that Liverpool will look to take Chelsea attacker Victor Moses on loan, we're starting to enjoy this whole transfer thing.
The try before you buy model seems to be quite popular around Merseyside these days and with Valencia CF fullback Aly Cissokho – who made his debut in the 1-0 win at Villa Park on Saturday – looking like a shrewd bit of business, the Reds are looking to double down in the loan market and save Moses from having to watch the Blues big names from the stands all season. The versatile attacker sits firmly behind the likes of Eden Hazard, Juan Mata and Oscar in the Stamford Bridge pecking order and looks set for a season with very little chance of game time if he doesn't make a move soon; this is obviously where we come in.
Brendan Rodgers is reportedly looking to leverage his friendship with Chelsea boss Jose Mourinho to bring the 22-year old to Anfield on a season long loan deal. Supposedly, the only sticking point threatening to scupper the move is the Blue's request of a £2mil loan fee which Liverpool are loathe to pay considering Moses is on £55k per week; a bitter pill? Certainly, but one the Reds may end up swallowing as Rodgers brings in the type of player – young, but experienced and with heaps of potential – into a position that he's identified that we need to strengthen. Making a move for a player just to make a move doesn't make sense, but making a move for a player that fits exactly what we're looking for makes perfect sense – even if the name is slightly underwhelming. Watch this space as this develops…