Liverpool Progress in Europe as Andy Moves South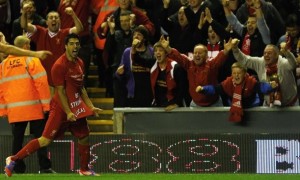 Another match, another display of Liverpool dominance that we couldn't quite capitalize on. If the news that Andy Carroll was headed to London on a season long loan with West Ham didn't perk your ears up, then the Kop having a bit of a bother out-singing the traveling Hearts supporters should of. As injury time approached, a blunder from Pepe Reina sent the Maroon faithful into raptures as the tie looked to be heading into extra time until Luis Suarez — the frustrating figure he is — sent them back to Edinburgh with a tear in their beer. If new boy Fabio Borini was the reason we went into this with a slim one goal advantage, then the Uruguayan, once again a cause for concern and celebration, was the reason it ended in such a whirlwind fashion.
The Jambo's defended bravely from the get-go. Each time the Reds cut them open, they recovered by either sheer determination or pure, unadulterated luck. Marius Zaliukas cleared a Suarez header off the line, an Adam Morgan tap in was called back, Gerrard danced through three challenges on his way into the box only to have Jamie MacDonald rush off his line and preserve his teams hopes of reaching the next round of the Europa League. Jonjo Shelvey was just off target with a swerving effort, Ryan McGowan cleared another Suarez shot off the line and Gerrard was denied by the foot of MacDonald at the near post; another match, another display of dominance that never came close to fruition.
Fast forward to the 84th minute and Liverpool — not Hearts — are punished for their wastefulness when Pepe Reina fumbles a stinging David Templeton shot from distance into his own net after the Scottish attacker expertly found some space following a Jambos corner. Say what you'd like about the travelling support, but that strike meant something to the lot of them. Pepe, like most goalkeepers, has his moments of weakness and the Spaniard usually has one of these early on in the season; thankfully this time it won't cost us anything.
One goal down and heading for extra time? Cue up Luis Suarez and a goal only he could make look so simple. It's a running joke that Liverpool never do anything the easy way, and the Uruguyan finding the back of the net from such an angle proves that Brendan Rodgers has done nothing as of yet to change that. Fabio Borini, who replaced Jordan Henderson as time ticked down, fed the ball through to Suarez and from the halfway line our Number 7 was bearing down on goal like he was being chased by every two-bit hack that ever wrote anything bad about him. Zaliukas never had the legs for the chase and as the Hearts captain pushed him out wide, Luis found the back of he net from an angle you'd never have expected; unless, that is, you knew better.
Doing things the hard way is our hallmark and Suarez continues to embody that. Miss a hatfull of easier chances, bury the hard one with aplomb. That's how it's going to be. The transfer window closes tomorrow and the draw for the next round is on as well. Stop in and have a gander at who we buy, sell and miss out on as the Reds find out where we'll be marching onto next.
-steven.
Give us a Like on Facebook and a follow on Twitter. If you're into the tunes, check out our collaborative playlist on Spotify.