International Injuries Add to Rodgers Woes: Reading Preview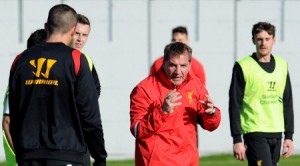 Finally we're back to proper football. Say what you will about International breaks and all the drama of the World Cup qualifiers, but it's never quite the same as seeing the Reds run out. It's a great honor to play for your country and it's also a fantastic opportunity to come home injured; just ask Fabio Borini and Pepe Reina. Our Spanish 'keeper is a doubt for the match with Reading this weekend after coming back with a tight hamstring, but Borini fared much worse and has been ruled out for 3 three months after fracturing a bone in his foot while training with the Italian Under-21s. Luis Suarez will be returning from South America ahead of the match and jet-lag is a serious concern with only a day or twos rest ahead of the Royals trip to Anfield. If our options up front weren't short enough, they're now playing a bit part role in the Hobbit.
Reading may be on the bottom looking up, but they don't have to crane their heads too hard to find us; the Royals remain win less in their second sojourn into the Premier League, but Brendan Rodgers' Liverpool aren't doing too much better with only 1 win in 7 outings. Despite our under achievement, things are starting to click all around the pitch for the Ulsterman's youthful side — and by that I mean everywhere except in front of goal.
Although Fabio Borini was hardly setting the Premiership alight, he represented a far more recognizable striking option than newcomer Samed Yesil or youth team standby Adam Morgan. If Brendan Rodgers was ruing missing out on a number of targets during the summer transfer window, he'll now be left counting the days until January with Luis Suarez being the only senior striker on the books after Andy Carroll was loaned out to West Ham with no replacement coming in to the fill the big mans sizable boots. Thankfully for Royals fans, their only striking problem for the moment is Jason Roberts refusing to wear a t-shirt.
The Reading striker is refusing to wear a "Kick it Out" shirt for the campaigns annual week of action after the groups perceived lack of inaction became a major sticking point with a number of Premiership players. Roberts has been vocal from the get go after a number of high profile incidents — including Luis Suarez's row with Patrice Evra and former England captain John Terry being found guilty of racially abusing Anton Ferdinand — were handled with kids gloves. While you have to respect the mans conviction, Reading boss Brian McDermott will likely have other things on his mind.
After drawing 2-2 with Swansea in their last outing, the Royals are still looking for their first win of the season as they continue to fight the good fight. Liverpool hardly fared any better after failing to turn their dominance — the underlying plot point in this still young season — into what would have been a deserved victory against Stoke City. Both McDermott and Rodgers come back from the break with the same task: continuing to play attractive football but…you know…winning every once and awhile.
-steven.
Looking to have a punt on the matches this weekend? Take a peek at Betegy and get the kind of help you deserve. Let's face it, you're not that bright.