Shelvey and Spearing Could Go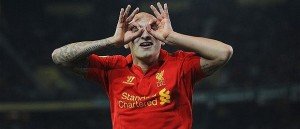 The transfer window has only just officially opened and already the News Desk is feeling a touch haggard from the daily grind of rumors, half-truths and feints within feints within feints; though in the interest of service and the greater good, we soldier on with today's double serving courtesy of Jonjo Shelvey and Jay Spearing.
There's been whispers floating across the airwaves for some time now, but, earlier today, Swansea City Chairman Huw Jenkins took the plunge and confirmed that the Welsh side's are in talks to sign Liverpool midfielder Jonjo Shelvey. The England Under-21 international had previously been linked with Norwich City and West Ham United, though neither felt the need to make a formal bid – now that the Swans have showed their hand, Crystal Palace has reportedly popped up with a "me too!" acknowledgement that the youngster has tickled their fancy. Whether Shelvey will be making the switch to Wales or London remains to be seen, but with Reds boss Brendan Rodgers doing a full re-model around and Anfield, it's looking like Jonjo's time on Merseyside is up.
If you think Jonjo might have a case to feel hard done by, remember that he had a shot at the first team under the Ulsterman and Jay Spearing – sent out on loan to Championship side Bolton on transfer deadline day – didn't get the crack he deserved. The Scouse midfielder scored 2 goals in 37 appearances for Wanderers last season and was voted both BWSA and the clubs player of the season after putting in some impressive work in the center of the park. Despite the deserved plaudits, Spearing is looking out of sorts when it comes to a return to his boyhood club and interest from a number of parties, including recently relegated Wigan Athletic, means the midfielder's forway away from the homestead could very well become permanent sooner rather than later. More on both players, and if someone's sneeze sounds vaguely like Mkhitaryan, as it comes.