Sebastian Coates Facing 6-Months on the Sidelines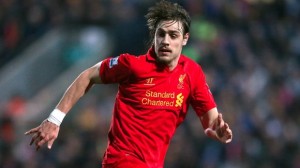 The News Desk is shifting its focus from the front of the park to the back with reports coming in this morning that Liverpool defender Sebastian Coates damaged his anterior cruciate ligament while on international duty with Uruguay. For those of you that aren't doctors, or memorize anatomy in your spare time, that's some real bad junk in your knee.
The defender, who has found himself on the outs at Anfield since Brendan Rodgers took charge last summer, sustained the injury during his countries 4-2 friendly win against Japan last week. Coates was heavily tipped to be leaving Liverpool this summer, but with upcoming surgery in South America throwing a monkey wrench into the transfer gears, it looks like he'll be with the Reds for a little while longer as he faces around six months on the sidelines – and makes Liverpool signing a center back a top priority.
After missing out on £30mil rated winger Willian yesterday, the Liverpool hierarchy will have to switch gears quickly if they're going to bring someone in before the transfer window closes on September 2nd. Brendan Rodgers has been reportedly trying to snatch up a younger alternative to former Manchester City defender Kolo Toure — who was signed on a free transfer at the beginning of July — but the Reds have so far been stifled in their attempts to bring in a promising name. Throughout the summer they've been linked with moves for Schalke 04 defender Kyriakos Papadopoulos and Sporting Lisbon youngster Tiago Ilori, but moves have, as of yet, failed to materialize. As time ticks down, and with the Merseyside club now in need, prices will inevitably be rising. More on this as it develops…