A View from the Kop: Liverpool 1-0 Manchester United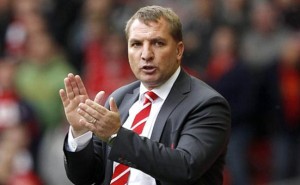 Gonna start this blog off slightly differently to normal by saying that I'm still totally buzzing from yesterday! It was a great result by the mighty Reds against a Manchester United side which I'm happy to go on record as saying (in my opinion) is definitely on the slide.
There's always a different atmosphere when we play 'them lot'. Maybe it's the Police Helicopter hovering overhead, maybe it's the extra police on each street corner, or maybe it's just because 'it's them'. But the excited apprehension could be felt as soon as I got out of my car and started the ascent up Scottie Rd. We went into this game on the back of an excellent season start, and with David Moyes now in charge (and his record at Anfield) it was felt that we could continue our run of 2 league games, 2 wins, and 2 clean sheets.
A few beers in the Sandon and a few songs and we were off. After a bit of a queue to get on the Kop we took our positions. The minute's applause for the man that is Bill Shankly was excellent- complimented by most sides of the ground singing his name. The rendition of YNWA was superb- lots of flags and banners, and fans giving it their all- how it should be.
The match kicked off, and no sooner had it started we were in front- and from a corner! Daniel Sturridge neatly heading home from close range. The Kop bounced, literally feeling the floor shake. I don't reckon there's a better feeling than scoring against Man Utd. It's just a totally different level of game and excitement. We played some good football during the first half, which ended by Stevie G firmly letting Van Persie know what he thought of him!
The 2nd half was a lot cagier- but then we were playing a team that finished 28 points ahead of us last season, so no surprises there. However, the thing I noted about yesterdays performance was the togetherness and spirit of this current team. Every single player fought and gave everything that they had got. Nobody hid, we stood up to Man Utd, we asked questions of them, and they couldn't answer any of them.
Our start to the season is the best by any team in premiership history- 3 wins, 3 goals, and 3 clean sheets. As fans, we can't ask anymore than that. And it's a huge credit to BR and his team of staff. I had serious doubts about BR- I don't mind admitting, but, he is doing a really good job. He has learnt last season just what managing our club is about. He's evolved and altered his management style, and he's not afraid to be ruthless either. This all bodes very well for our future. And yesterday was just a very good example of this. I'm impressed, and hopefully our 3 signings today will further strengthen our squad.
YNWA.