Mamadou Sakho vs Lille: Moving Pictures and a Bunch of Numbers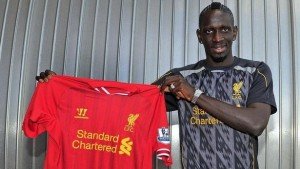 You get the feeling that Liverpool's deadline day capture of Mamadou Sakho will soon be seen as a grand coup; Brendan Rodgers had been stifled all summer in his attempts to sign a "marquee" attacking player as a number of high-profile targets rejected a move to Merseyside — though not for a lack of trying. With the kind of cash on offer failing to bring in a big gun, it was time for a change in perspective and  the Northern Irishman instead looked to fortify the defence by adding a mountain.
With Martin Skrtel out of a favor, Jamie Carragher retiring and new signing Kolo Toure already up in years, central defense was a position crying out for new blood; Sakho, it appears, is exactly the kind of player we were looking for. The youngest captain in both Ligue 1 and Paris St. Germain history, the Parisian Mountain, as he's been so aptly nicknamed, has already drawn favorable comparisons to France legend Lilian Thuram and former England defender Sol Campbell. His physical presence, pace and strength in the air all give him a leg up in the rough and tumble world of the Premier League and his £18mil price tag certainly shows a statement of intent from the club; now, it's just a question of whether or not he's going to make the starting eleven.
Video by MrBoywunderComps
Swapping Paris for Liverpool was a good idea

As Paris St. Germain marched to their first Ligue 1 title since 1994, new Liverpool signing Mamadou Sakho was there to help them along the way with a solid performance over 90-minutes in their 1-0 victory against league rivals Lille. The Parisian mountain spent the majority of his time, 35.71%, between his own box and the center circle, but also played a high-line with 20.24% spent in and around the center circle. Left footed, Sakho also spent a combined 17.86% of his time helping out on the left flank – a position he can also slot in at — but he left the right side of the field to his defensive partner Sylvain Armand, rarely venturing over there.

Although PSG ran out comfortable winners, the French defender missed the 1 tackle that he attempted and was only successful in a combined 25% of his duels. For Liverpool supporters, tired of seeing their side bullied in the air and on set-pieces, his 50% success rate at headed duels and 5 successful clearances out of 8 attempts will be a cause célèbre.

Sakho, much like Daniel Agger, thrives on a possession based game and looks comfortable carrying the ball out from the back. Gone are the days of the ball hoofed up field; Brendan Rodgers expects much more than that and in this particular outing, the Frenchman completed an impressive 94% of his passes. Retaining possession is just as important as winning it back and the defender made 3 interceptions against Lille as his side ran out yet another clean sheet. Three points and no goals conceded? There aren't too many central defenders who'd wish for more than that.

Stats courtesy of Squawka

On paper, the Frenchman looks to be a promising partner for newly appointed Vice-Captain Daniel Agger; able to match the pace of the Danish defender and operate in the kind of high pressing line that Rodgers is looking for, Sakho brings with him bucket-loads of potential and a desire to play football at the highest possible level. A spot in next seasons Champions League is what the club is aiming for and the defender has the same in mind. "The Champions League is a tournament that all the great clubs in Europe participate in and that's where we need to get to" said the defender during his first interview with the official site. "With the team we have, and the means put at the disposal of the players, the technical support and the whole club and its supporters are in a good position to get there. This is our objective."
Signed as a schoolboy and called a "child of the club" by PSG president Nasser Al-Khelaifi, Sakho faces stiff competition for a starting place at his new club. With incumbents Daniel Agger and Martin Skrtel, as well as new signings Kolo Toure and Tiago Ilori to contend with, the 23-year old has a fight to see first team action ahead of him – a fight that the French defender is more than ready for.
Managers always talk about selection headaches, but Brendan Rodgers will relishing it when it comes to selecting the back line; with the wealth of defensive options at his disposal, the boss will no longer be put into the position where an unfit or out of sorts defender has to be played. If one player isn't up for it, someone else will be chomping at the bit and more than ready to prove their worth. Coming from a club like PSG, Sakho – who will wear the number seventeen at Liverpool – understands that he won't always be assured a spot on the field, and if he's lucky enough to find himself on it, that someone else in the squad will be looking to take it from him. "Competition doesn't give me any worries. Competition makes the team grow and makes the club grow because that's the objective and the goal of everyone here" said the French defender in his first interview with the official website. "To get the best out of any player, you need to have competition."
Champions League dreams aside, the defender will need to work his way into the first team picture before he'll grace the very best stadiums in Europe; but Sakho is born a winner and if he can develop into the kind of player he knows he can be at Liverpool, the Reds will have found their marquee summer signing in a place no one expected we'd be looking.
–Steven
So, what do you think? Nailed on certain to start next to Daniel Agger or an upstart that's going to need to earn his place? Let us know in the comments or hit us up on Twitter or Facebook. You know what? It's a Saturday of an international break; go on and do all three.