Protected Species Could Slow Anfield Redevelopment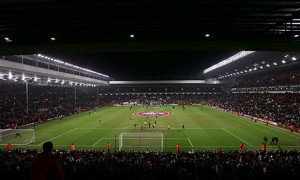 Just over a month ago, Liverpool principal owner John W. Henry said that progress was being made on the estimated £154mil Anfield Redevelopment project, but now proceedings are apparently under threat from a very strange source.
Funding hasn't fallen through, nor is Fenway Sports Group looking to sell the club. Zoning hasn't been an issue and the purchase of houses in the surrounding area has been moving along as "obstacles are being overcome." So, what's the problem? Well, apparently, Reds supporters aren't the only ones who view Anfield as their home — there's also a number of bats who roost in the stadium. Since these flying mammals are considered a protected species, if ecologists do find that they've made the rafters of the hollowed stadium their primary residence, special provisions will have to be made in the redevelopment plans to accommodate the squatters.
As the Reds look to boost the capacity of their stadium to 60,000 to keep pace with their more financially well off rivals, they'll now have to find a way to re-home the bats in redesigned stadium. According to the Mirror, a Bats Conservation Trust spokesman said that the construction "must not harm bats" and "an ecologist will have to establish how bats use the site" before we'll see the much vaunted "spade in the ground".
A number of bats have been seen flying around Anfield in recent years, though a Liverpool spokesperson said that they were "not aware" that the flying creatures have made the historic ground their home. The expansion of the stadium has been moving along at a snails pace with a number of homeowners in the area refusing to sell their property to the club. Last month Henry said that "The obstacles are not completely out of the way but we seem to be moving in that direction" which made it sound like Liverpool were on the right path. Although people can be bought and reasoned with, bats don't have the same skills — it'll be interesting to see how the club works through this latest bump in what has been a ridiculously long, winding road.