Harry Rednapp Claims Brendan Rodgers Wanted to be His England Number 2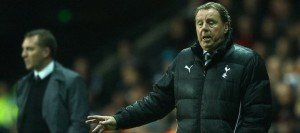 The News Desk isn't quite sure how Harry Redknapp, manager of Championship side Queen's Park Rangers, keeps the media talking about him not getting the England job, but Ol 'Arry has done a mighty fine job of keeping himself in the spotlight – and now he's gone and pulled an obviously uncomfortable Brendan Rodgers under that harsh white glow.
Footballer and manager autobiographies have become the latest way for the money mad lot to cash in and Redknapp's recently published tale, Always Managing, has caused a bit of a stir since it hit bookshelves with the most recent being that now Liverpool boss Brendan Rodgers had agreed to become the veteran managers assistant if he got the Three Lions job. Obviously he was the locked on favorite since now England captain Steven Gerrard sent him a text giving him his full backing – he did, didn't he? Well, Stevie says he didn't and now Rodgers is taking a step back from Redknapp's claims as well.
"There was no answer yes or no but I would have considered it for him" said the Liverpool boss. The conversation, which Rodgers calls "unique", came following a Premiership match in April 2011 when Redknapp was still in charge of Tottenham and Rodgers was still behind the bench at Welsh side Swansea City. While the book makes it plain that the offer was accepted, the Reds manager has a slightly different tale to tell – though he hasn't said one way or the other whether he would have accepted. "Here was a Premier League manager asking another Premier League manager to come and work with him at the European Championship" said Rodgers, who continued, "There was no decision either way. Out of the respect I have for Harry I was going to consider it."
Obviously it Roy Hodgson and not Harry Rednapp that would end up succedding Fabio Capello in the England hot seat, but you do get the sense that Rodgers was keen on the role; "I saw that if it was to happen it would be a unique opportunity to show British players could play football: they are technically and tactically very strong they just need that support and confidence to go and play that way" said the Reds manager. Rodgers may be right there, but knowing Rednapp, he'd have a strike force of Peter Crouch and Jermaine Defoe instead of Wayne Rooney and Daniel Sturridge. It's weird to say, but Roy was probably the better choice.