Sturridge Injury Leads to Germany and Everton Doubts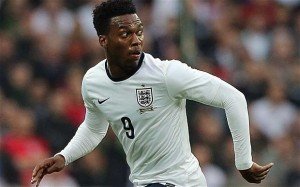 After sitting out England's calamitous 2-0 loss to Chile at Wembley on Friday night, Daniel Sturridge had hoped to be fit for Tuesday's meeting with Germany after supposedly overcoming a knock that he's been playing with for the "last couple of games", but if the news coming in this morning is to be believed, he won't be playing at all and could even be a doubt for this weekend's meeting with Everton.
Reports have been streaming in that the striker left England training early after being unable to complete the entire session. After about 45-minutes Sturridge left the field with phsyio Steve Kemp but there are contradicting reports whether or not the 24-year old was visibly injured while making his way off the field. Regardless, this isn't the kind of news Liverpool want to hear ahead of a meeting with their cross-town rivals.
With only a handful of opportunities remaining, Sturridge will be looking to make an impression on England boss Roy Hodgson to secure a slot in his squad for the World Cup and yesterday he threw down the gauntlet for his country and said that if he's fit, he's going to play.
"It's important for me to be fit and to play for England, it's an opportunity that I'm relishing. If can remain fit, that's what's important for me, to be putting on the England shirt and playing" said the striker, who was quick to downplay his injury troubles. "It's not a serious injury so I'm hopeful that it doesn't continue to linger on." Well, it appears to be lingering.
Sturridge has been in blistering form for the Reds this campaign and with eight goals to his name already, he's played a key role in the Anfield outfit's early season success. Although Liverpool boss Brendan Rodgers has played the striker while injured in the past, the return of Luis Suarez from a 10-match ban and Coutinho from injury coupled with Victor Moses coming in on loan from Chelsea means that the Reds aren't quite as threadbare up top as they used to be. If he's not risked on Tuesday, he may be better spending Saturday recovering as well.