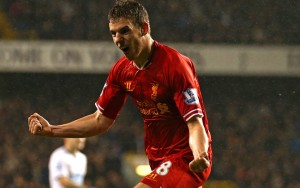 There's a whole lot of congratulatory backslapping going on in the wake of Liverpool cleaning out Tottenham on Sunday and the latest recipient of the manager's praise is local lad Jon Flanagan who scored his first Premier League goal in the showpiece blowout of the weekend.
It would appear that the youngster, who continues to keep Aly Cissokho out of team, has hit on his golden numbers. "A young player like that, probably a couple of years ago, might not have had a chance" said Rodgers. "So I've said to him, 'just play every game as if you haven't cracked it, go out and be the best you can be', and that's what he's done." When his volley hit the crossbar and bounced down past Spurs 'keeper Hugo Lloris, it'd be harsh to put it all down to luck, but he might want to give http://sg.888casino.com/casino-games/roulette a visit and keep his hot streak alive.
The Liverpool born and bred fullback ran directly to the corner of White Hart Lane where the travelling fans were massed to celebrate. "His goal was a brilliant finish. I'm delighted for him, he's a real good boy and you can see how much it means for him and the supporters" continued the Kop Boss.
While few would have pegged Flanagan for a first team regular – or for Liverpool to short end Tottenham so badly – it goes to show that if you're going to have a punt, it might as well be on Red.