Liverbirds Jubilant, Bluebirds in Disarray: Cardiff City Preview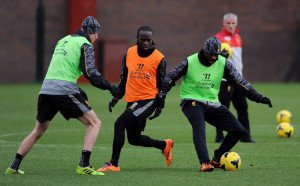 It's that awkward moment when you expect more off-pitch drama than you do on-pitch excitement; Cardiff City visit Anfield in the Premier League for the first time since 1959, and instead of it being a celebration of how far the club has come, there's a funeral mood hanging about with manager Malky Mackay about to get the sack.
Whether it comes after the meeting with Liverpool or before is the only real question left – tensions have risen to a boiling point between manager Mackay and Bluebirds majority stakeholder Vincent Tan with reports in the media this morning that the Malaysian businessman is en route to Wales to drop the hammer in person. Although the Scotsman has kept the newly promoted side in fighting form and punching above their weight in the top flight, the no holds barred scrap between manager and owner has taken its toll – and this next blow is sure to be the knockout.
Anfield old-boy and current Cardiff City striker Craig Bellamy could be in the frame for a cameo appearance on the touchline should Mackay not make it to Saturday. Should the Scotsman still be in charge at Anfield, then Bellamy faces a race to be fit to face his old club with a recurring knee problem that Reds fans know only too much about hampering the Welshman once again. Thankfully for Mackay – or whoever will be in charge this weekend – Bellamy is their only injury concern; the Bluebirds are going to need luck, as well as their full line-up, if they expect to get anything at Anfield.
The Welsh side has been absolutely terrible on the road this season though they're doing their best to buck the trend with a 1-0 win over struggling West Bromwich Albion at the Hawthorns last weekend. Peter Whittingham's header was the final nail in Baggies boss Steve Clarke's coffin and was enough to move the Bluebirds four points clear of the relegation zone in 15th place – a lofty standing for any promoted side come Christmas time. Still, winning away to West Brom and winning away at Anfield are two vastly different propositions; and with Liverpool in blistering form, forgive me for saying it's a lost cause.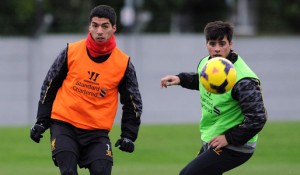 Not only did the Reds roll over heavily favored Tottenham Hotspur last weekend, but they're now going into the weekend buoyed by the news that star striker Luis Suarez -who has an astounding 17 goals in 11 Premier League appearances this season – has ended months of speculation regarding his future by signing a new long term contract with the Merseyside club earlier today. The likes of Steven Gerrard, Daniel Sturridge and Jose Enrique may be on the sidelines, but the Uruguayan has been a one man wrecking ball, outscoring not only the elite players of the Premier League, but entire teams as well. It'd be rashly over confident to say that we could dispatch tomorrow's visitors on the back of Suarez alone, but with the Uruguayn in the kind of form few can comprehend, let alone explain, it probably wouldn't be too far from the truth.
Thankfully, Brendan Rodgers will be able to name 10 other players to compliment his star man. Philippe Coutinho and Raheem Sterling are expected to start up top with the Uruguayan, though we could see a slight change in the midfield with Luis Alberto being tipped to replace either the impressive Jordan Henderson or Lucas as the boss looks towards the meetings with Manchester City and Chelsea just over the hill. The central defensive pairing remains a mystery, though Daniel Agger could return to the side with Liverpool rejecting a loan approach from Napoli for their vice-Captain's services earlier in the week. Glen Johnson and Jon "Flani Alves" Flanagan are almost assured to take up their usual roles on the flanks while Belgian shot-stopper Simon Mignolet will be putting in a shift between the sticks – though there's little doubt which 'keeper will be the one working tomorrow.
Coming in just behind Mackay, truly, Cardiff City 'keeper David Marshall has the least enviable job for the visitors tomorrow. Stopping Liverpool at Anfield has always been a job, but stopping them in this kind of form borders on inhumane working conditions. The Kop, I'm sure, won't be party to any grievances…
–Steven
Predictions for tomorrow? Are Cardiff City on for a kicking? Or have I got this all wrong and the Bluebirds will be the ones soaring? Let me know in the comments or hit us up on Facebook or Twitter. Be sure to stop by tomorrow for the starting line-ups, a full match reaction and other assorted goodies…