The Kop Doesn't Do Duets: Manchester City Preview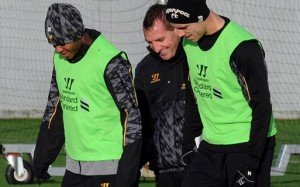 It's the Holiday Season, but that doesn't mean much when it's a top of the table clash between Liverpool and Manchester City; we're not in a giving mood — we're not about to just hand over the points, nor are we about to join in with our Manchester United hating brethren in some joyus sing-song.
Anyone who told you that Brendan Rodgers side would be top come the tail-end of the calendar way back in August is either a massive liar or a honest to goodness clairvoyant; the fact that we're looking down the table at what's surely the most expensive Premier League side ever assembled isn't only amazing, according to Brendan Rodgers, it's unfounded. While he's quick to play down our title challenge and talk up theirs, regardless of how it ends, Boxing Day will be the kind of litmus test Tottenham failed to provide — and in the form we're in, snagging a point might not be quite as hard as it sounds.
Despite the vast gap in wealth between the two sides six of our last nine Premier League meetings have ended in a draw — though this was before Manuel Pellegrini came around. The Chilean has been nothing short of a revelation at the Etihad Stadium; the Citizens have yet to drop a point all season at home, scoring a staggering 35 goals in front of the Sky Blue faithful. While they'll be without top scorer Sergio Aguero with the Argentine ruled out through injury, he's not the only goal threat City have at their disposal.
While Brendan Rodgers is left to rue the absence of Daniel Sturridge and Steven Gerrard — two of his most potent attacking threats — he hasn't missed them too much with Golden Boot heir apparent Luis Suarez in blistering form. You don't need to be reminded what an immense threat the Uruguayan poses, but you'd do well to forget that for every Suarez we might have, the Citizens are able to match that at each turn.
His individual talent alone overshadows almost everyone in the City squad, but collectively they're a sight to behold with the likes of Negredo, David Silva and Fernandinho just three of the names Pellegrini has to choose from. If that wasn't enough, Liverpool haven't exactly been watertight at the back — Jordon Mutch's consolation goal for Cardiff City last weekend in the Reds 3-1 win is quite sufficient evidence of that. Thankfully, City aren't the steel door that they were under former boss Roberto Martinez, and with the likes of Matija Nastasic, Pablo Zabaleta and Micah Richards ruled out, we just might score more than we concede.
Joe Hart hasn't exactly inspired confidence either; when you put him up against the likes of Suarez and Philippe Coutinho, the England man would do well to keep a clean sheet on Boxing Day. The Reds will want to get on the scoresheet first, and do it early; Brendan Rodgers side have won 11 out of the 12 games in which they've opened the scoring, though they'll do well to keep that trend going on the road. Anfield might be regaining it's reputation as a fortress, but on the road they've won only one of their last five. Of course, that win was the trashing of Spurs at White Hart Lane — something that will give us heart going to the Etihad.
You can take your own pick at the starting lineup; Rodgers named an unchanged side to the one that won in London when Cardiff City came calling last weekend, but there's sure to be changes when we go back on the road. Jon Flanagan's hamstring problem means that either Martin Kelly or Aly Cissokho are sure to come into the line-up, but besides that, Simon Mignolet, Luis Suarez and Philippe Coutinho are the only players truly assured their place in the side. Everyone else? Well, we'll see what happens.
Regardless of how this plays out, no one is going to complain too loudly about our league position and a team that hates Manchester United is going to profit — while I have to be greedy and hope beyond hope that it's us, having a look at the league table and seeing David Moyes side outside the top four will be a pretty good present in itself.
–Steven
However you celebrate the holidays, we here at Paisley Gates would like to wish you and your family all the best.