New Role for Gerrard One of Rodgers Problems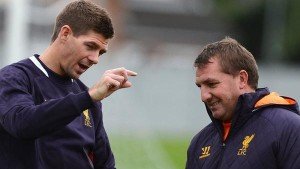 There's nothing wrong with admitting you made a mistake as long as you look to correct it in the future. After clawing back a two goal deficit to draw with Aston Villa at Anfield on Saturday, Reds boss Brendan Rodgers admitted that Liverpool weren't at their best – and neither, he quickly conceded, was he.
An overly aggressive, attacking line-up left both Lucas and Joe Allen, often considered to be defensive midfielders, out of the starting eleven and the results were laid bare for all to see. With Steven Gerrard and Jordan Henderson tasked with holding down the middle of the park, the Reds first half display was nothing short of shambolic as Villa exploited the gap between them and the defence on a strikingly consistent basis.
First half goals from Andreas Weimann and Christian Benteke evoked strong feelings of déjà vu as Paul Lambert's side tried their damndest to recreate last season's shock 3-1 victory; had Rodgers not brought on Lucas at half-time, there's not a whole lot of doubt that they would have. One of the key talking points of the match, if you choose to ignore the whole Luis Suarez penalty circus that's currently doing the rounds, was Liverpool captain Steven Gerrard once again operating in a deeper position – and having a shockingly poor go at it.
While the skipper has earned himself enough credit over the years with his swashbuckling displays to warrant some time and understanding as he tries to adapt to this new role, Aston Villa recognized him as a weak point in the side and took nothing short of full advantage of it.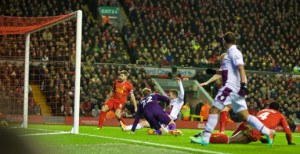 "It didn't work for myself or the team" conceded Gerrard. "Villa put a lot of men around me and every time I tried to get the ball under control in the first half they swamped me. It wasn't one of my better 45 minutes."
Trying to shoe horn Gerrard into a starting role has been a problem all season; by the end of the match, his legs are gone and that's through no fault of his own –you can't expect the kind of balls to the wall, all action displays that the Captain of old regularly turned in. At 33-years old, it's just not on anymore and if he wants to continue in the side, adapting his game is the only way to go. With that being said, if he's going to continue in this role – or if Rodgers is going to continue naming him in it – a vast improvement has to be on the horizon.
Again, time and patience is both warranted and deserved, but the skipper was only able to complete a mere 73% of his passes and won neither a headed duel nor found his target with even one of his six attempted crosses – though there were high point of his game on the defensive end with Gerrard completing 2/3 of his tackles and his one take-on.
It wasn't until Lucas came on and the Captain was shifted further forward that we saw an uptick in his output and the long pass to Luis Suarez for the Uruguayan to win the penalty that tied things up was nothing short of sublime. With the Derby on the horizon, this leaves Rodgers with a decision to make: does he restore Gerrard to a more familiar, and more effective, role but be prepared to sacrifice him when his legs start to wobble, or, persist with him in this new, unfamiliar, deep position and risk having the midfield overrun again? More controversially, and dependant on Lucas being fit in time for next Tuesday, does he keep him in reserve and put him on for the last half hour or so?
Rodgers, it would appear, is unfazed by the 33-year olds poor first half performance saying that there's "no question" that Gerrard can play the role and that he doesn't regard it as a "setback" in his attempts to remake the midfielder. On Saturday we saw that Liverpool have a number of problems – many of which could be addressed this month with both existing players returning from injury and intelligent moves in the market for new players to plug some gaps – but the Liverpool boss insists that it will be a "totally different game" when Everton visit Anfield just over a week from today.
Let's hope he's right…
–Steven
What do you think? Can the Captain turn his game around? Or should Rodgers take a good, long look at things and reconsider his role in the team? Let us know in the comments or hit us up on Facebook or Twitter.