Bournemouth FA Cup Build-Up: Howe Happy to Stay, Arter Learning from the Best and No Rest for O'Kane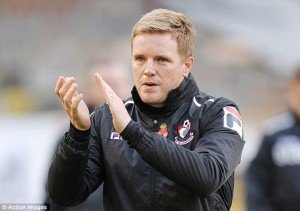 Liverpool get a welcome break from the all encompassing transfer madness, and the rigours of the Premier League, when Brendan Rodgers men visit Dean Court this weekend for an FA Cup fourth round tie with AFC Bournemouth.
The Cherries dispatched League Two side Burton Albion with ease in the third round to set up a glamour tie with the Merseyside giants and there's been a constant buzz around the club ever since. The hosts put four past the visitors to exert their dominance over the lower league outfit, though they'll make a quick metamorphosis to the small fish in a small pond when the Reds roll into town on Saturday – a will and a way is one thing, but scalping Liverpool is a complete other.
Coming off a 1-1 tie with Watford at the weekend, Bournemouth will need to put in a much better performance if they're going to have any hope of putting one over on their visitors. A header on the stroke of halftime from Hornets defender Gabriele Angella put the visitors ahead going into the break, but Lewis Grabban, who signed a new deal with the Cherries in the hours leading up to the match, pulled the home side level when he converted a penalty after goal-scorer Angella was shown a straight red card.
"We got dealt with a sucker-punch right on half-time, which was a killer blow for us, but the response of the players was superb – our second-half performance was brilliant" said Bournemouth manager Eddie Howe. "You can go into half-time on a downer but credit to the players, they came back really well."
Convincing Grabban, who looked set to leave Dean Court in the days leading up to the meeting with Watford, could be a major coup for the Championship side, but retaining Howe, who's in his second spell in charge of the Cherries, could be just important. The manager has been linked with a number of vacant positions as the sack-race runs its course around the country, but the former Bournemouth player has revealed that he has no intention of leaving the club anytime soon.
"Nothing would please me more than to see us stabilise in this division and eventually look to move up. It may take some time but that is the aim" the Cherries boss told the Bournemouth ECHO. "I don't think you can ever look too far ahead in management. You can be well thought of one minute and not so well thought of the next." Should he navigate the tie with Liverpool successfully, Howe won't have to worry about too much negative press and he'll be looking towards players like Harry Arter to make sure he only sees kind words in print.
The midfielder, who could very well be matched against the England captain on Saturday, is relishing going up against a player he calls "one of the best midfielders of his generation ", though he admits that the 33-year old will provide a test for him. "If he plays, it will be really good to test myself against him and I am sure I will try to learn as much as I can from him in the 90 minutes I am up against him" said the Cherries midfielder. "Being a midfielder myself, he is someone I have always looked up to. Although we play a little bit differently, he is someone I try to watch as much as I can and learn as much as I can from him."
While Arter is pre-occupied with his pad of paper taking notes on Gerrard, Cherries blogger Peter Bell reckons that holding midfielder Eunan O'Kane will be the real star of the show over the weekend as the Englishman looks to disrupt the ebb and flow of Liverpool's game. The 23-year old has put in a number of steely performances shielding the Bournemouth back line – something manager Howe puts down to tactical nous. "He is one of the most intelligent players I have here in this squad in terms of his tactical understanding and that is a real benefit for us" enthused the boss. "He has got many strings to his bow. He is defensively good, everyone can see how technically good he is on the ball and he is someone who has improved as the season has gone on. I am really pleased with him."
With Liverpool expected to rest a number of players for the visit of Everton on Tuesday, the Cherries can expect a bit of an easier go at Dean Court; with that being said, they're going to have to be at their best if they're going to get anything out of this. Home support only goes so far…
–Steven
Think the Cherries have a shot of knocking Liverpool off their perch? Or will the Reds go marching on? Let us know in the comments or hit us up on Facebook or Twitter. We'll be back tomorrow with a full match preview ahead of this weekends clash.