This is About Winning Trophies: AFC Bournemouth Preview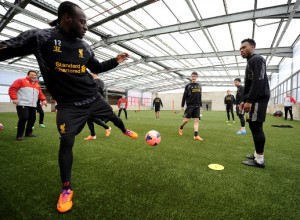 While domestic cups often remain a point of contention among the "bigger" sides in the top flight, Liverpool boss Brendan Rodgers has insisted that not only will Liverpool be taking Championship side Bournemouth seriously when they meet tomorrow in the fourth round of the FA Cup, but they're going to be fielding a very strong side — mostly, because they don't have a choice.
The Reds have a small squad and it's only gotten smaller since the 2-2 draw at Aston Villa last weekend with defensive midfielder Lucas and fullback Glen Johnson both set for extended spells on the sidelines in the wake of the match. Regardless, the Northern Irishman bullish about Liverpool's chances of not only securing progression to the next round, but continuing their charge for Champions League football next year.
"It's a competition we want to do well in, the history of the club dictates that it's about winning trophies and this game is important for us, so we'll be strong and look to get a good result" said the Reds boss in his pre-match press conference. Without the distractions of European competition this season, Liverpool have made a run up the league table the likes of which we haven't seen in years and they go into Tuesday's meeting with fifth placed Everton a mere two points ahead of their closest chasers; a fact, some would argue, which warrants a fair helping of squad rotation on Saturday.
Unfortunately, that doesn't appear to be an option. "We don't have a lot of choice at the moment," admitted the Liverpool manager when asked about his squad selection for Saturday. "We've only got 15 players training [due to injuries], and obviously we'll call on some of our younger players to come into the squad." Just who those young players are, and more importantly who they'll be replacing, remains to be seen, but Australian goalkeeper Brad Jones is confirmed to be filling in for Simon Mignolet as the Belgian takes a well deserved rest. The rest, well, they'll be coming up against a very determined Bournemouth side that isn't keen on losing in front of their own fans.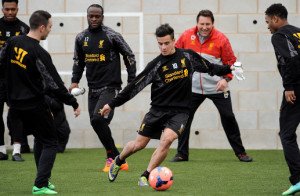 Cherries defender Steve Cook will have his work cut out for him come Saturday; Liverpool have scored the second most goals in the Premier League to date this season and don't look like slowing down anytime soon. Despite the fact that they'll have their home supporters behind them, Cook has conceded that the Championship side will have to play smart, rather than hard, if they're going to have a shot at upsetting the favorites.
"If you go all guns blazing against a side like Liverpool, you will most probably get picked off. It is all about getting the timing right, growing into the game and, most importantly, taking the chances when they come" said the former Brighton & Hove Albion defender. "You don`t want to come off the pitch with regrets and it is a chance to show what we are capable of against one of the biggest teams in Europe."
Bournemouth are no strangers to cup upsets and the team that downed Manchester United in 1984 is still talked about; despite the gulf in class and resources between the two sides, a scalping is always a possibility. Last year, Liverpool tumbled at this stage against Oldham Athletic and Rodgers is keen to avoid another upset this time around, insisting that Liverpool will have their heads right come Saturday. "But it's for us to ensure that our mentality is right and that we're willing to do the dirty stuff, and the ugly bits in the game and then you look at your quality to come through in the end" said the Northern Irishman.
His counterpart, Cherries boss Eddie Howe, hasn't called on his players to "do the dirty stuff", but rather to step up and be counted. "It's a chance for someone to go down in history and it might define their career" said the former Bournemouth defender. "Not so long ago we were down and out and I know people can have short memories, but this is fantastic day for the supporters who stood by the club through thick and thin only a few years ago."
While I hate to spoil a party, anything but progression in the cup would be unacceptable. A tidy win at Dean Court with a minimum amount of fuss is exactly what Liverpool need at this point; which means, it's probably going to be the complete opposite. The Magic of the Cup only applies if you're the one getting the scalp – it's not so magical if you're the one losing your head. Let's hope we can keep ours; we need to look presentable when we trash Everton on Tuesday.
–Steven
Be sure to stop by tomorrow for the all the news in the build-up to the match and the confirmed starting line-ups. We'll see if Rodgers throws us any curve balls…