Arsenal FA Cup Build Up: Wenger Could Rotate, Szczesny Admits Humiliation and Cazorla in Bed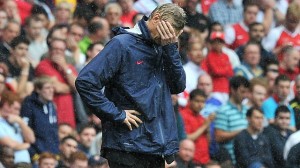 Arsenal fans who were expecting a reaction to the thumping handed out last Saturday at Anfield were bitterly disappointed when their side ran out to a scoreless draw with Premier League strugglers Manchester United.
It sounds a bit odd to use "strugglers" and "Manchester United" in the same sentence, but the Red Devils haven't been the same since Sir Alex Ferguson called it a day and Arsene Wenger missed a glorious opportunity to heap pressure on embattled manager David Moyes and solidify his side's position in the top four of the Premier League. Now, they'll have to look for a response to their failed response when Liverpool visit the Emirates this weekend in the FA Cup – a match that could very well influence the Premier League title race.
Both Wenger, and his counter-part in Reds boss Brendan Rodgers, have decisions to make. Although the Northern Irishman ruled his side out of the title race last week, a rash of good fortune in results around the league sends him into the weekend with a real shot of making a move for the title when their Premier League campaign resumes next weekend against his former side Swansea City.
In his pre-match press conference, the Northern Irishman revealed that he's got his eyes on the FA Cup final and that he won't be resting anyone for the trip to North London, but it's looking like Wenger is ready to take a gamble and shake things up for Sunday. The Gunners, who have a meeting with Champions League holders Bayern Munich on the cards, could make up to six changes to the starting eleven he named for Wednesday's stalemate with Manchester United, with the likes of fullback Nacho Monreal, midfielder Alex Oxlade-Chamberlain and striker Nicklas Bendtner all returning to the starting eleven as Wenger keeps an eye on the upcoming clash with the Germans.
Reserve 'keeper Lukasz Fabianski could also replace first choice shot stopper Wojciech Szczensy despite the Pole claiming that he'll be looking to put in a better performance against the side that put five goals past him. "It will be a big game for us because we conceded five against them and it was a little bit humiliating," conceded Szczensy in the build up to Sunday's meeting. "I certainly believe it is out of our system now because we turned up against United with a good defensive show."
One that change that Wenger has no choice but to make will be to replace the ill Santi Cazorla, who was ruled out of the match at the Emirates earlier today. "From Wednesday night I don't think we lose anybody, just Cazorla who is ill in bed today" said the Gunners boss. "I have just been informed so he certainly will not be available for Sunday." The absence of the creative Spaniard could prove to be a problem with the North London side finding it hard to come by goals in their last three outings. Although Lukas Podolski is likely come to in to try to fill the gap, the German hasn't had the best season and doesn't quite carry the fear factor he used to.
I suppose a "strong squad" – which Wenger insists he'll field – is all down to opinion. To be fair, the FA Cup is small potatoes when you stack it up against the Premier League title and a shot at their first ever Champions League trophy. Still, you get the feeling that Gunners fans would take any piece of silverware at this point. At the time of writing, it's been 3,190 days since they last won a trophy…
–Steven