Let's Turn the Screw: Arsenal FA Cup Preview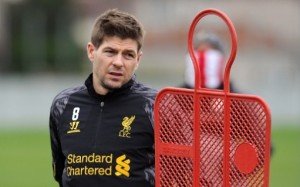 After what happened last weekend, this particular match doesn't really need a preview, does it? Both teams have their marching orders and either set of supporters will be looking for something special when their side runs out at the Emirates tomorrow.
Liverpool boss Brendan Rodgers, who talked of his desire to go all the way to Wembley, will be looking to prove that what happened last weekend wasn't the "accident" that his counterpart Arsene Wenger chalked the Gunners 5-1 defeat up to be. Following up on the rout with a last gasp 3-2 victory against Fulham at Craven Cottage, the Reds are starting to believe that they can beat anyone, anywhere; they've beat Arsenal at the Emirates before and they'll be looking to do it again. The hosts, on the other hand, just want some confidence.
With their Premier League title tilt taking a wobble and a difficult tie with Bayern Munich in the Champions League looming just over the horizon, the Gunners need to pick up the pace, and they need to do it fast. The chance to reassert their top spot chops against a struggling Manchester United side went sideways when the two sides ran out a stalemate midweek.
While the Reds stole a march on the sides above them, Arsene Wenger's team faltered yet again. The response the players — and the fans — were promised never did materialize, and it sounds like they're going to be looking for it at the weekend with a weakened side. Although defensive midfielder Mathieu Flamini will return from a three-match ban to add some much needed steel to the middle of the park, Wenger is expected to rest a number of key players, including the likes of Olivier Giroud, Mesut Ozil and Wojciech Szczesny, with one eye kept firmly on Wednesday's meeting with the German giants.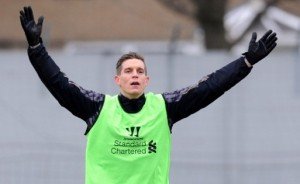 Rodgers, on the other hand, has promised a strong team in the build up to Sunday's match in North London. Daniel Agger is expected to come-in in place of former Gunner Kolo Toure — whose freak own goal in London on Wednesday night put Fulham into the lead for the first time that evening — but no other major changes are expected from the Northern Irishman. It was expected that at least a few key players would drop to, at the very least, the bench, but despite being well placed to qualify for the Champions League for the first time since 2009, the Liverpool manager has decided to have a crack at their one real shot at silverware this season.
The Anfield outfit continue to be tipped as the "dark horse" to claim their first title of the Premier League era, but despite the positive vibrations swirling around our points surge, the FA Cup represents a far more likely trophy to lift come may. The Reds boss, who looks set for a new contract in the coming weeks, is going all-in to get the final at Wembley and secure his first piece of silverware as Liverpool manager. It wouldn't be surprising to see Luis Suarez, Daniel Sturridge and Steven Gerrard all named in the starting eleven on Sunday.
Rodgers, who was big on lamenting his "thin squad" only last month, may be focusing on this competition to a fault with the potential for injury high after having the same group of players play three matches in just over a week. While very few Liverpool supporters would complain if he eased off the pedal slightly in this competition, the Reds have almost a full weeks rest ahead of them before they host his former side Swansea City next weekend. If we can navigate a weakened Arsenal side to progress in the Cup and go on to pick up full points against the Swans next weekend, you won't hear anyone complain; if someone goes down injured though, you better hang on to your hats.
Lifting the FA Cup would be a great way to cap off what has been a stunner of a season — but so would qualifying for the Champions League and having some major clout in this summers transfer market. As skeptical as I might be that we can do both, we've not no reason to doubt Rodgers. If he thinks we've got what it takes to compete on both front, then roll on Arsenal; we've got a screw to turn.
–Steven
Who do you think Rodgers should name to the starting eleven? Is the FA Cup a huge priority for you? Or is the league your only horse? Let us know in the comments and be sure to pop in before the match tomorrow for the confirmed starting eleven.