Liverpool (4) Swansea City (3): Resilient Reds Down Jacks in Pulsating Encounter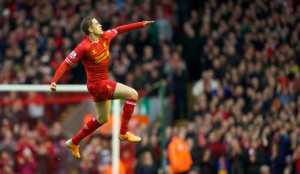 Once again, a match we would have drawn — or even gone on to lose — in seasons past pays off in a spectacular way as Jordan Henderson snatches a late win for Liverpool in his 100th start for the club.
It's not often that you see the Reds concede three at Anfield, but we saw Swansea City's quality in the reverse fixtures when the two sides ran out a 2-2 draw at the Liberty Stadium and the Welsh side showed it again today. Two goals in four minutes from the Jacks nullified a spectacular opening twenty minutes from the hosts, and when Daniel Sturridge scored his second to put the Merseysiders ahead at the break, Wilfried Bony was on hand to slot home from the spot not long after the restart.
Really, it shouldn't have been that hard; in typical Liverpool fashion, we were ahead within the opening five minutes. You had to look at it twice, and even then you weren't quite sure if it was Raheem Sterling, but a beautifully weighted, outside of the foot pass saw Sturridge spring the Swansea offside trap and round an onrushing Michel Vorm to open the scoring.
The whole thing must have came as little surprise to Swansea boss Garry Monk who would have been looking to avoid this early deficit scenario altogether; the Reds have been deadly at home and Raheem Sterling went looking for a goal of his own a minute later, but Vorm was able to get down well to turn his effort away. Never a team to roll over and play dead, the Swans found their way back into the match as the early minutes ticked away and Wilfried Bony was on hand to fire a warning shot after Daniel Agger's clearance found his way to back to the Ivorian striker.
Former Liverpool man Jonjo Shelvey was the fulcrum of much of the visitors forward momentum in the early stages, but the 21-year old would see his side go two goals down when Jordan Henderson collected a Sturridge pass at the edge of the box before curling home a spectacular effort with the greatest of ease. Shelvey had his revenge a mere three minutes later though when his first time, crossbar rattling finish from Nathan Dyer's pass received deserved plaudits from both sets of supporters.
On the back foot, Brendan Rodgers could do nothing as his former side drew level. Shelvey, proving himself to be a massive hassle for the Reds backline, was on the end of a clattering from Martin Skrtel, but from the resulting free-kick, Bony's header took a deflection off the Slovakian's shoulder to even out proceedings.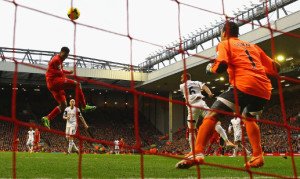 The visitors looked likely to take the lead with a series of set pieces troubling their hosts — though they'd be left to rue their missed chances when ten minutes later the momentum shifted again. Liverpool's passing game has been a thing to behold this season and it was a textbook example of turning dominance into goals when a beautiful spell of possession ended with Luis Suarez crossing into the box with the outside of his foot for Sturridge to nod past Vorm for his second of the match and 24th goal in 24 games since making the move from Chelsea last January.
Chances to get back on terms quickly fell to Bony, Angel Rangel and Dyer as the Swans fought desperately to go into the break level, but they wouldn't have to wait long after the restart when Agger and Skrtel combined to sandwich Bony in the box and send the Ivorian to the spot. Although Simon Mignolet dove the right way, the 25-year old had enough pace on the ball to beat the Belgian and pick up his second of the match.
This is the point where you expected it all to go wrong — for either side. Neither team was giving up the ghost on this one; Skrtel's header sailed into the Kop, Suarez skipped by two defenders before shooting just wide, Jonathan De Guzman came close from free kick and saw his drilled effort denied by Mignolet moments later and Sturridge's stinging shot was blocked off by Ashley Williams before it could trouble Vorm, but it would be Henderson, making his 100th appearance for Liverpool, who'd finally break the deadlock.
Gerrard has settled quite well into his deeper role, spraying passes around with ease and it was another one of his spectacular long-range efforts that found Suarez. The Swans captain put his body on the line again to get in the way of the Uruguayan's volley, but the rebound fell kindly to Henderson who, after seeing his initial effort knocked away from Vorm, followed up on the rebound to slot home his second of the match and eventual winner.
I wish I could say the result was never in doubt; let me repeat myself and say that it shouldn't have been this hard. There's no easy matches in the Premier League, but throwing away a solid two goal lead is troubling to say the least and only reinforces the notion that something needs to change at the back. That being said, after Bony scored from the spot, there wasn't that vapid sense of desperation that so readily sunk in during seasons past as we fruitlessly looked for an equalizer.
We knew that all wasn't lost. We knew that we were going to push the Jacks until the end. We knew we could score. We knew we could win — that's the fundamental difference. Winning begets winning; you've heard me say it before, but that desire, that belief, that familiarity we're starting to have with coming out on top will be a major building block in what makes this side great.
–Steven
Seven goals at Anfield and we didn't score all of them. What'd you think about that? Get social with our media or have a go in the comments.