Brendan Rodgers on Southampton Win: Post Match Interview and Dream a Little Dream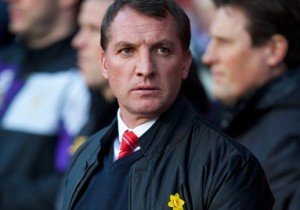 It's getting harder and harder to keep talk of a title tilt to a minimum; three points yesterday sees Liverpool leapfrog Arsenal into second place and keep the pressure up on league leaders Chelsea. If beating Southampton at St. Mary's for the first time in eleven years wasn't nice enough, now we're truly in the thick of it with only ten matches left.
When you think back to the last time we had a realistic shot at the title and where the club was then to where we are now, so much has changed. "We've made many changes on and off the field in the time I've been here, but what we have created is a one-club mentality" said Brendan Rodgers in his post match interview. "Now when anyone talks about Liverpool, it's about the football, and that's very pleasing." It's no longer debt, falls from grace, scandal or infighting — it's the just the football; and what glorious football it is.
Video by VIDÉO DE FOLIE
With ten matches left to go, we've scored an astounding 73-goals. We have the top goal scoring duo in Europe in Luis Suarez and Daniel Sturridge. We have exciting young talents in Philippe Coutinho, Raheem Sterling and Jordan Henderson that aren't just watching from the sidelines, but are right in the thick of the action. We've got experience veterans in Steven Gerrard, Daniel Agger and Martin Skrtel.
We've got a team — and they're winning.
"We'll stay calm. It's good for the supporters to dream" said Rodgers in the wake of Liverpool's steady advance up the table. "It's great for them because they've seen the evolution of this team over the last 18 months – and we've been constantly for over a year progressing and performing at a good level."
There's been bumps along the road and there's inevitably more to come, but this side have been evolving and growing together as one — from the top to the bottom they're playing the same kind of football. "The style will always be the same – we want to control and dominate the game, be tactically strong and very good in transition" continued the Northern Irishman. "We saw all of those aspects today."
Luis Suarez gave the Reds the lead within 20-minutes when an attempted one-two with Daniel Sturridge took a curious bounce of Saints defender Jose Fonte and the Uruguayan lashed the loose ball past Artur Boruc before anyone could exhale. Raheem Sterling, on for a mere 80-seconds before doubling up the advantage, finished a cool Suarez pass for the visitors second and the Reds number seven — never one to stop running — won a penalty deep into injury time which his Captain duly converted. Southampton had their chances, but they never really had a chance.
"We've had an outstanding performance today – a really significant performance – against a very, very good side with an excellent manager. Our players were tactically brilliant today; kept a clean sheet collectively as a team and scored three goals" enthused the Anfield boss. "We'll just stay calm. 10 games to go, we're in a good position and we just want to continue working at the level we've been at."
And if we can keep working at that level, what were once dreams could very well become reality.
–Steven