Reds Will Comply with Financial Fair Play Despite Posting Loss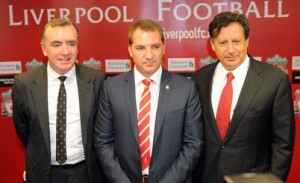 Despite the fact that Liverpool announced losses yesterday in the region of £50mil, the latest numbers show that the Reds have continually reduced their debt since Fenway Sports Group took over and they're confident they will be in full compliance with UEFA Financial Fair Play Rules going forward.
The American company has stopped the rot since buying out failed duo Tom Hicks and George Gillett in an acrimonious coup and their projected numbers show that losses will fall to £25mil from 2015 – 2016 with an even further reduction expected between 2018 – 2019. With the prospect of securing Champions League football for next season looking like a reality, Liverpool will be watching the numbers carefully to insure they're not going to run afoul of UEFA's stringent new rules.
With that firmly in mind, the Reds management team has either strengthened or signed new commercial partners to increase revenue with the usual names of Standard Chartered and Carlsberg being joined by household names like Vauxhall and Dunkin' Donuts. According to the rules, the Anfield outfit leverage certain costs, including the wages of any player signed prior to July 2010, against their losses. When you factor in youth development, community projects and infrastructure updates – all of which can also be offset against losses – Liverpool will be in a good position moving forward.
"Given where Liverpool Football Club was only a few years ago, the progress that has been made since FSG acquired the club has brought back much needed stability with an ambitious vision which everyone is focused on" said managing director Ian Ayre. The books show that bank debt has been reduced by £19.9mil and turnover has exceeded £200mil for the first time and that a large portion of the losses were down to player departures with Joe Cole and Alberto Aquilani receiving sizeable pay-offs on their departures from the club.