Suarez Future Not Dependant on Champions League Finish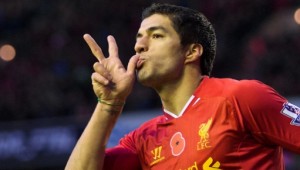 Although the party line which we've all been toeing is that Liverpool need to qualify for next seasons Champions League in order to keep Luis Suarez at Anfield, in a recent interview with football magazine FourFourTwo, Europe's most prolific striker has revealed that that's not the case at all.
"I think so" said Suarez when asked if he'd stay at Liverpool if they failed to qualify for the Champions League next season. "I signed my new contract because I'm very happy here and I want to stay where I'm enjoying football and life. Playing in the Champions League isn't dependent on that." This, of course, stands in stark contrast to the hard line taken by the striker during the summer.
Earlier in the week, primary Liverpool owner John W. Henry revealed that the striker's much fabled buy-out clause did exist and that the Reds basically chose to ignore it, therefore blocking Suarez's move to then suitors, and Premier League rivals, Arsenal. Going into the mini-international break, the Uruguayan is Europe's top scorer and Liverpool look posed to qualify for the Champions League for the first time since 2009 – a dream that Suarez, who signed a new long term contract at Anfield in December, is dying to fulfill.
"Everyone says Champions League nights at Anfield are amazing – memories you guard forever" he continued. "It would be an unforgettable experience and it's been too long since that happened. I think to finish in the top three, which is still possible, would be incredible with the players we have in the squad." Suarez scored one, created one and drew a penalty as Liverpool ran out 3-0 winners against Southampton last weekend, and the three points saw them leap-frog Arsenal into second place with ten-matches left to play. A serious tilt that the title – though still possible – may not be on the cards this time, but it's looking like our Uruguayan goal-machine will get to experience a real European night on Merseyside in the very near future.