"Genius" Banner Ready for Manchester United Trip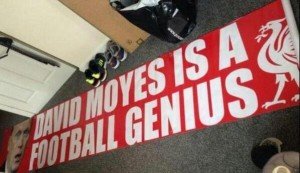 There's never a lack of banter between Liverpool and Manchester United fans, and when the Reds travel to Old Trafford on March 16th, there'll be a new addition to the selection of banners on display – including this one ironically branding struggling United manager David Moyes a "football genius".
The Champions, who currently sit 12-points off of fourth placed Manchester City in the final Champions League spot, have failed to carry on the kind of form that saw them claim their 20th Premier League title last season. The Red Devils have seen a serious decline in fortune since iconic manager Sir Alex Ferguson announced his retirement and named his fellow Scot as his successor – something that has brought a considerable amount of joy to the Liverpool faithful.
The rivalry hardly needs an explanation; with the Reds looking well placed to qualify for the Champions League for the first time since 2009, the rise of Liverpool boss Brendan Rodgers comes as a considerable point of pride for Kopites everywhere – so much so that it's hard not to twist the knife when it comes to the struggling Moyes. There's no love lost between the Anfield outfit and the man who managed cross-town rivals Everton before taking over at Manchester United, and this latest banner is just another shot fired in a war that's been going on forever.
Manchester City, who arguably harbour an equal amount of disdain for their more successful neighbours, unveiled a similar banner back in February, taking a pot-shot at the Scottish boss with the same sarcastic moniker bestowed upon him. We're sure this isn't the kind of attention Moyes thought he'd be getting when he took over at Old Trafford…