Brendan Rodgers on Hammers Win: Post Match Interview and Keepin' On Keepin' On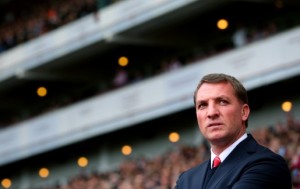 A pair of Steven Gerrard penalties saw Liverpool snatch three points against West Ham United yesterday and return to the top of the Premier League. It wasn't quite the masterclass kind of performance that we've come to expect from the Reds, but winning a bit ugly is still winning — something the Anfield outfit is becoming accustomed to.
"That's nine games on the run we have won, which at this level is incredible, especially with so many young players. I concentrate on the performance; I never get too carried away when we win and I never get too disappointed when we lose" said Brendan Rodgers in his post match interview. "All I ask of my players is to do the best they can and, as we develop our exercises and ideas in training, that transmits onto the field." If they're not yet doing the best they can, it'll be scary when they do.
Video by BeanymanSports
Although they looked a bit sluggish at times, the Reds showed the kind of resilience — and enjoyed a bit of luck — that teams shooting for the title need. "I just concentrate on Liverpool – that's my only focus and hopefully we can continue on this great run" explained the Northern Irishman, hinting heavily at next weekends crunch meeting with Manchester City.
"We constructed from behind, looked to play, looked to pass under pressure. And if we continue with that, it will hopefully keep us getting good results" he continued. "We'll recover tomorrow and then we'll go again. It's just about concentrating on our football and how the players have dealt with that has been fantastic."
West Ham made it hard on their visitors at times, but yesterday's match was always going to be the appetizer ahead of the far meatier meeting with the Citizens this coming weekend. Manuel Pellegrini's dispatched an off the pace Southampton to keep up the chase at the top of the table and their game in hand could prove vital should they trip the Reds up.
"We'll just keep our focus, keep that concentration. It didn't matter that Manchester City or Chelsea won yesterday – it can't affect us" mused Rodgers. "We have to control ourselves and our own emotions and get the job done and that was a real tough game today, but we got a great result."
–Steven